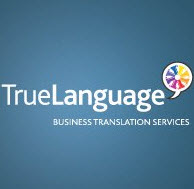 Atlanta, Georgia (PRWEB) November 15, 2012
TrueLanguage, a leading provider of professional localization and translation services, today announced that it held an expert panel discussion on the "Global Document Life Cycle – Working with Teams Around the World" as part of the company's Luncheon Series designed to provide attendees with information on the "glocalization'" process. Glocalization is a term used within the language services market to refer to the processes involved in preparing a global business to effectively and accurately communicate with persons living in a specific global market. Attendees of the panel discussion gleaned insights from four professionals with experience in different aspects of the global document life cycle.
"Our goal was to gather experts from the various stages of the global document process – from content creation and management to presentation and publishing – because if we understand that there are steps before and after us in the process of managing a multilingual document, we can all benefit," said Doris Johnson, Director of Strategic Business Development for TrueLanguage. "There are many challenges involved with the creation and execution of global documents and by bringing some of them to light, we can work together to develop processes to effectively manage – and possibly avoid – many of these potential hurdles."
With the outsourced language services market worth over $33 billion and growing at an annual rate of more than 12 percent, it is important for global businesses to obtain the knowledge necessary to maximize their investment on the "glocalization" of technical documents, marketing materials, software and more. Companies spend considerable dollars every year on establishing a presence in markets outside the U.S. and without detailed processes in place, they can spend significantly more than necessary to rework or edit inaccurate translations.
Each of the panelists offered a unique perspective on a different aspect of the global document life cycle. Dr. Jeffrey Shoap, president of Shoap Technical Services, LLC, provided insight into the process flow involved with content creation, specifically technical writing and documentation. Jeff Gray, an agency partner at Realm Advertising, offered experience on the marketing and communication of global documents. Vicki Flier Hudson with Highroad Global Services addressed how teams can best position themselves to work efficiently across language and culture barriers. Uli Dendy, CEO of TrueLanguage, discussed what to look for in a Language Service Provider (LSP) to ensure a translation project is delivered on time, on budget and on target. The panel was moderated by Michael Todd Shinholster, founder and principal consultant of Culture Bridge, an intercultural training and consulting firm.
"The panelists covered a lot of information in just over an hour," stated attendee and LJL Communications owner, Lesley Lyons. "They shared real-life experiences on a diverse set of topics. I walked away with valuable tips and practical ideas including, successful integration processes for working with global teams and how to improve the efficiency and effectiveness of global document processes. Based on my experience, I will definitely attend the next seminar."
The session was held at the UPS headquarters in Atlanta, Georgia. TrueLanguage is planning to host another expert panel in 2013 featuring different guest speakers fielding questions on different topics.
About TrueLanguage
Based in Atlanta, TrueLanguage is a full-service professional localization company that provides cost-effective translation, interpretation and localization services based on each client's specific needs. TrueLanguage offers clients a strong combination of professional language experts, centralized project management and outstanding customer service to ensure accurate, compatible, reliable and authentic translation and interpretation in more than 60 languages worldwide. For more information on TrueLanguage and its worldwide localization services, visit http://www.truelanguage.com or contact the firm at info(at)truelanguage(dot)com or 770 850 1205.