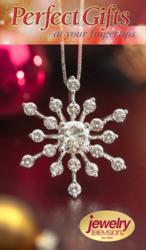 "We have created a one-stop-shop so our customers can do all of their holiday shopping for the women in their lives. They come to JTV knowing they will get quality, on-trend jewelry at prices that don't blow their holiday shopping budget."
KNOXVILLE, Tenn. (PRWEB) November 16, 2012
Jewelry Television, an interactive multichannel jewelry and gemstone retailer, is kicking off the holiday season in style featuring exotic pearls, bright diamonds and customer-favorites from the Stratify collection. JTV will promote affordable luxury gifts throughout the month, showcasing price points of $50, $75 and $100.
Jewelry is always at the top of women's most-wanted holiday gifts. Here are suggestions from JTV's 2012 holiday collections:

Nov. 15 to 16: Holiday World of Pearls – Explore the newest styles in exotic pearls, including the return of the top-selling freshwater pearl multi-colored braided leather bangles after being sold out for more than three months.
Nov. 17 to 18: All is Bright Event – JTV's largest diamond event of the year will feature an assortment of diamond styles and colors with a wide range of pricing to easily accommodate anyone.
Nov. 17 to 18: Holiday Wrap with Stratify – Big and bold looks will rule the show for Stratify's holiday collection. Best-selling stones such as Vermehlo garnet and morganite will be offered in both new and re-ordered styles.
"The holiday season is always an exciting time with people shopping for that perfect gift and wanting to find the best deals possible," Jill Johnson, vice president of marketing for JTV "We have created a one-stop-shop so our customers can do all of their holiday shopping for the women in their lives. They come to JTV knowing they will get quality, on-trend jewelry at prices that don't blow their holiday shopping budget."
For more information, visit http://www.jtv.com or tune into Jewelry Television.
About Jewelry Television®
Jewelry Television® (JTV) is the only interactive, multichannel shopping network that focuses exclusively on the sale of jewelry and gemstones. The privately-held company was founded in 1993 and broadcasts high definition programming 24 hours a day, seven days a week, to more than 80 million unique households in the U.S. Jewelry Television® was recently ranked the 13th largest retailer of jewelry in the U.S. by National Jeweler. JTV.com is the fifth largest jewelry destination on the internet according to Internet Retailer's Top 500 Guide for 2010. For more information, visit http://www.jtv.com.
###