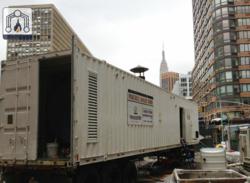 This level of rental boiler demand has never been seen in New York City.
Delanco, NJ (PRWEB) November 14, 2012
Powerhouse Equipment Co., Inc. placed more than 30 pieces of rental boiler equipment and boiler auxiliaries in New York City and surrounding areas due to Hurricane Sandy so far. The Hurricane brought record rainfall which caused flooding throughout the City, Staten Island, Northern New Jersey and surrounding areas.
This unprecedented weather situation meant commercial and industrial facilities experienced outages when their regular utility provider, either a district steam provider or local provider, couldn't supply steam. If they supply their own steam or hot water service, the flooding was rendering their boiler rooms unsafe and inoperable.
Among the facilities needing portable boiler rooms during these outages were hospitals, schools, apartment buildings, power generation facilities, correctional facilities and hotels.
"Powerhouse portable boiler rooms are specifically designed for these types of situations," stated Matt Stohner, VP of Powerhouse, "they are easilly transportable, similar to an emergency generator, safe, easy to operate and can keep facilities running for days, weeks and months, if necessary"
Emergency work crews in and around New York City have been mobilizing to secure permanent steam and hot water service back to the facilities, but with the extent of the storm damage, this is proving to be a monumental task. "This level of rental boiler demand has never been seen in New York City", stated Matt Stohner.
More about Powerhouse Equipment
Founded in 1982 and headquarted in Delanco, NJ, Powerhouse is a privately-held, single-family run organization selling quality boiler equipment and offering turn-key boiler service. Powerhouse owns and operates the largest fleet of portable boiler rooms in the world. Additionally, Powerhouse stocks packaged boilers for sale to the global marketplace. Powerhouse is known across the industry for offering the highest quality equipment available. For more information, visit, http://www.powerhouse.com.
Please donate to the Red Cross for disaster relief efforts.