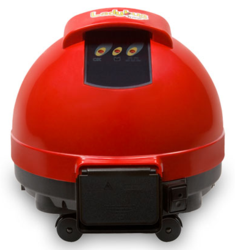 Temperatures around 113°F kill bed bugs and the eggs they leave behind.
Lake Forest, Illinois (PRWEB) November 15, 2012
Reports of bed bugs are still sweeping the nation. To encourage consumers to ditch their chemical bed bug killing products, many of which are linked to cancer, 1-800-GO-VAPOR.com announced today that they are offering $50 off the popular chemical-free Ladybug 2150 steam cleaner this holiday season and throwing in a free accessory set valued at $30.
"People across the nation are in a panic mode and don't know how to stop the hitchhiking vampires," says V.K. Dunlop of 1-800-GO-VAPOR.com.
Because the cost of professional help can cost thousands of dollars, people are turning to dangerous, do-it-yourself eradication methods. But chemicals that can eliminate bed bug infestations are rare and by and large ineffective, as bed bugs have developed resistance to chemicals that are being used against them.
"Another problem is that chemicals can't reach bed bugs in every nook and cranny where they hide," says Dunlop.
A highly toxic chemical called propoxur does work better than most, but the U.S. Environmental Protection Agency (EPA) banned the chemical for home use because of the damage it can cause to the nervous system of children.
"Fortunately there's a safe, fast, economical remedy that does not involve using toxic chemicals that harm human health," say Dunlop. "It's called a vapor steam cleaner."
While vapor steam cleaners are traditionally used to clean and sanitize surfaces without chemicals, professionals and consumers alike are discovering that with 245°F heat these marvels of technology also instantly eliminate bed bugs from clothing, bedding, furniture and structural areas like baseboards. Temperatures around 113°F kill bed bugs and the eggs they leave behind.
"People don't have to douse their homes in chemicals," says Dunlop. "Ladybug steam cleaners use heated vapor steam instead of chemicals to instantly kill bed bugs and the eggs they leave behind. And because vapor particles are so small, they can reach cracks and crevices chemicals cannot."
With a vapor steam cleaner like the affordable Ladybug 2150 steam cleaner or the top-selling Ladybug Tekno 2350 steam cleaner bed bugs have nowhere to hide and are a thing of the past. And because Ladybug steam vapor systems kill bed bugs right away, they can be more economical than chemical alternatives that take several treatments.
"Ladybug steam cleaners are known the world over as the crème de la crème of steam vapor sanitization systems," says Dunlop. "Don't be fooled by imitations that rely on chemical injectors. If you use toxic chemicals to remove bed bugs from your home, what removes the toxic chemicals? These chemicals are linked to asthma, allergies, birth defects, cancer and psychological abnormalities."
Ladybug steam cleaners equipped with Ladybug's proprietary patented TANCS® technology qualify as disinfection devices for the EPA. In addition to killing dist mites and bed bugs on contact, Ladybug steam vapor systems with TANCS® have been extensively tested and scientifically proven to disinfect surfaces in much less time and with greater safety and effectiveness than traditional typical disinfectants.
According to Chuanwu Xi, Assistant Professor in the Department of Environmental Health at the University of Michigan, "Scientific studies have found that biofilms can be up to 1000 times more resistant to biocide inactivation than are suspended microbes. It is extremely difficult to get rid of biofilms and kill them. The efficacy of the steam vapor system is important because even strong chemical disinfectants such as bleach when allowed 20 minutes of dwell time did not achieve the same degree of kill that the TANCS®-equipped unit accomplished in three seconds."
Located in Lake Forest, Illinois, 1-800-GO-VAPOR.com is moving fast to educate consumers and businesses that finally, there's a feasible, environmentally friendly alternative to chemicals. With customers in every state in the nation and seven foreign countries, the company maintains an A+ rating with the Better Business Bureau and markets Reliable, Vapamore and Ladybug steam vapor sanitization systems worldwide. For more information, call 1-800-468-2767. 1-800-GO-VAPOR.com is a proud member of the Safer Chemicals, Healthy Families coalition, a nationwide effort to protect families from toxic chemicals. To stay safe and avoid toxic chemicals, keep abreast of the latest news with 1-800-GO-VAPOR.com's Twitter account, @1800GOVAPOR.