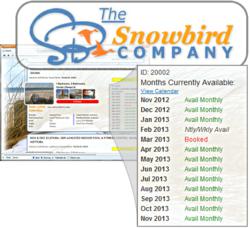 Not only do the sites load much faster, but we offer new modules snowbirds have requested, that other vacation rental by owner networks don't offer at this time
Fairhope, Alabama (PRWEB) November 14, 2012
The Snowbird Company's American Snowbird Network of 18 location-specific rental websites recently underwent major upgrades to each of its sites, bringing an enhanced level of navigation and more easily-accessible rental information to its consumers and property managers. The network of site's target audience is winter travelers who vacation from one to six months out of the year. These websites, such as http://www.AlabamaSnowbird.com, http://www.FloridaSnowbird.com, http://www.AmericanSnowbird.com and http://www.CaliforniaSnowbird.com, offer a resource for vacation property owners to market and rent their condominiums and houses to a growing number of winter travelers through a cutting-edge rental network.
"The upgrades and enhancements of the snowbird rental sites bring the level of service to both our owners and potential guests to the next level," said Sean Beckham, president of The Snowbird Company. "Not only do the sites load much faster, but we offer new modules snowbirds have requested, that other vacation rental by owner networks don't offer at this time."
Beckham said The Snowbird Company's rent-by-owner websites offer innovative new features such as robust monthly-rate information, including an easy-to-find breakdown of available months and pricing unique to each month, as well as a new multi-month discount feature to offer incentives for snowbirds booking longer stays.
"Snowbirds that book three- to six-month stays are often sought after by property owners, because they fill more of their, otherwise, vacant months," said Beckham. "This feature of our Version 2.0 interface gives the owner a way to communicate incentives for longer stays, up-front." Beckham added, "Many snowbirds use price as a primary deciding factor in selecting their winter home, and this cuts down on the number of calls a snowbird needs to make to find and compare multi-month pricing details." He went on to say this feature is easily maintained by rental owners and is integrated directly into their availability calendar, showing potential renters the value of a monthly or multi-month stay, benefiting both owners and renters.
Other upgrades to the network of sites include:

Faster page-loading times, cutting-edge photo loading and slide show photo display
Google map display of available properties allows proximity and zoom-in capabilities to aid guests seeking rental properties in particular areas; ability to click to see details and pricing
No click through needed for renters to access availability calendars on listings
Ranking system to reward owners/property managers for using availability calendar, posting monthly rates, adding more photos, receiving guest reviews and listing multiple properties
Unique titles per webpack, allowing owners more flexibility in promoting specific amenities and specials, such as pet friendly, boating amenities, snowbird specials, etc.
Enhanced integration with Clearle.com, The Snowbird Company's sister company, bringing the benefit of visibility to other niche markets, with one central admin panel, and for a discounted annual rate.
Upgraded software prevents 99.9 percent of spam, allowing owners to receive genuine leads
The Snowbird Company is an established brand that tailors to the lodging needs of thousands of winter travelers each year. The company includes both regional and state-specific highly visible websites catering to the snowbird lifestyle and receiving more than 60 million hits a year. The sites offer an array of condominiums, homes, villas and hotel rooms at discounted, offseason and multi-month rates.
For more information about The Snowbird Company or its network of rent-by-owner sites for the snowbird market, visit http://www.TheSnowbirdCompany.com or call (800) 270-2457.