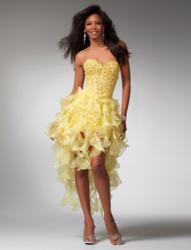 These affected stores are some of our oldest accounts and we wanted to at least do something to try and help them through this difficult time
(PRWEB) November 15, 2012
With the election behind us and the Holidays right around the corner many areas in the northeast are still reeling from the damage left behind by hurricane Sandy. This is bad news for retailers who count on holiday business to boost their bottom line, including dress shops and special occasion boutiques that see increased sales of cocktail dresses and formal gowns with all of the holiday and New Year's celebrations that the end of the year brings. To help soften the blow dealt to them by Sandy, Philadelphia area designer Clarisse Inc. is offering deferred payments and drop shipping to any boutique whose holiday sales season has been disrupted by the hurricane.
While the city of Philadelphia itself was spared the brunt of Sandy's wrath many of Clarisse Inc.'s customers in the region, particularly those in New Jersey and New York were not as fortunate as the manufacturer's home office and saw their businesses take wind and water damage or go days, sometimes weeks, without power. For this reason Clarisse Inc. has decided to go beyond simply extending leniency on bills due and has offered a number of their accounts in the region the option of having Clarisse dresses shipped directly to their customers. This direct shipping method, commonly referred to within the industry as 'drop shipping' is already a service Clarisse Inc. offers to their retailers, but for the next few weeks a number of these boutique will be able to make use of this service free of charge.
"We realize that it isn't much in the grand scheme of things" said Daniel Adrian, Owner of Clarisse Inc. "But these affected stores are some of our oldest accounts and we wanted to at least do something to try and help them through this difficult time." Mr. Adrian explained that the idea of free drop shipping to retailers in the aftermath of Sandy came as a result of repeated requests from client accounts, "we had plenty of stores the week after ask if we could drop ship all their orders just because their physical business was in a state of disarray. And it didn't really feel right charging them the usual fees, so we decided to try and use this method to provide some much needed support to our retailers."
Clarisse Inc. has noted that as of the writing of this piece a number of accounts along the New Jersey coast as well as on Long Island have completed clean-up and repairs and are now operating normally. Clarisse congratulates those stores that have managed to return to a sense of normalcy and stands by its commitment to those still recovering from hurricane Sandy.
Clarisse Inc. is a manufacturer of prom dresses and gowns, evening wear and special occasions clothing located in Philadelphia PA