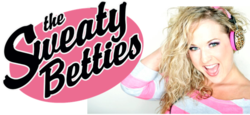 "I am so excited to be able to provide an all-in-one place for women to get support, find their fitness mojo, and find themselves again!" – Sweaty Betties Founder, Danny-J Johnson
Dallas, TX (PRWEB) November 15, 2012
The fun-loving, headband-sporting, fan-favorite website, TheSweatyBetties.com, kicks off their Online Community Launch Party today, Thursday, November 15th, 2012. Popularly known for their entertaining workouts, smart nutrition, and tongue-in-cheek motivation, The Sweaty Betties have now added an online community to their mix. In honor of the Launch Party, they are offering 24 hours of specials: unique community membership savings and over $1,400 in sweat-worthy gifts will be given away.
"I am so excited to be able to provide an all-in-one place for women to get support, find their fitness mojo, and find themselves again! Too many of us have gotten married, had kids, started a career, and somehow lost ourselves along the way. This site is here to help you bring you back!" – Sweaty Betties Founder, Danny-J Johnson
Why become a Sweaty Betties Member? Besides the interactive, female-focused social community, members will receive weekly, diet specific meal plans (i.e. gluten-free, vegan, paleo), grocery shopping lists, and workouts. Full training videos and instructions accompany the workouts, so people of all fitness levels can follow along. In order to stay on track, online progress charts are available for members to upload pictures and measurements.
For those who need a little extra kick in the butt, Queen Sweaty Betty herself, Danny-J Johnson, will be performing monthly Q & A calls and providing webinars with top fitness experts and celebrities like: Jade Teta - author & owner of the "The Metabolic Effect Diet", JJ Virgin - author of best-seller "The Virgin Diet" and host of TLC's "Freaky Eaters", Jamie Eason - Bodybuilding.com Spokesmodel and international cover model, and many more! A special webinar will be held during the Launch Party at 5:15pm PST with Season 8 Biggest Loser Finalist, Amanda Arlauskas.
Anyone who signs up to become a member during the 24 hour Launch Party (starting 12:00am PST, Thursday, November 15th) will automatically be entered in to win a Beach Cruiser Bicycle, JumpSport Fitness Trampoline, WOD Gear Clothing, oGorgeous Yoga Bag, Live Well 360 Gym Bag, and Sweaty Betties Tanks & T-Shirts. Winners will be contacted Wednesday, November 21st and announced live on The Sweaty Betties Facebook page.
So, grab your favorite sparkly leotard and check out The Sweaty Betties Online Community Launch Party, going on NOW at http://www.sweatybettiesfitness.com.
Lead by inspirational fitness sensation, Danny-J Johnson, The Sweaty Betties are an irreverent group of women who are looking to get fit while having a whole lot of fun along the way. With nutritional advice, limitless motivation, and entertaining weekly workouts to fit into the busiest of schedules, they make fitness a fun part of life - not the only thing in life.