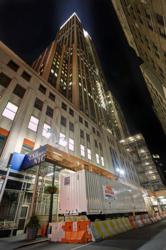 This matter is extremely important to protect the iconic Empire State Building in this time of great tragedy in New York City
Delanco, NJ (PRWEB) November 14, 2012
Powerhouse Equipment Co., Inc. was called upon to supply the Empire State Building its first ever rental boiler when the National Icon lost heat during Hurricane Sandy.
The Empire State Building has no back up systems and Powerhouse was contacted to supply an emergency portable boiler room to the building when it became evident service would not be back online for days. The city steam utility had experienced a number of explosions and other mechanical failures due to the record flooding caused by Hurricane Sandy and as the piping and mechanical systems that supply the Empire State Building are underground, service was interrupted.
"When Powerhouse learned that Empire State Building needed a portable boiler room, we were stunned," remarked Matt Stohner, VP at Powerhouse Equipment, "I mean, we never expect that to happen, even with all that was going on the in city. We quickly responded to protect this national icon."
Timothy J. Clancy, Director of Operations at the Empire State Building, LLC, had this to say, "In one of the worst storms in the New York History Powerhouse was able to supply and deliver an 800 HP Portable Boiler Room within 24 hours of request."
High rise buildings don't often require supplemental steam support systems, and this is to believed to be the first time a portable boiler room was required at the Empire State Building, highlighting the intensity and destructive force of Hurricane Sandy.
More about Powerhouse Equipment
Founded in 1982 and headquarted in Delanco, NJ, Powerhouse is a privately-held, single-family run organization selling quality boiler equipment and offering turn-key boiler service. Powerhouse owns and operates the largest fleet of portable boiler rooms in the world. Additionally, Powerhouse stocks packaged boilers for sale to the global marketplace. Powerhouse is known across the industry for offering the highest quality equipment available. For more information, visit, http://www.powerhouse.com.
Please make a donation to the Red Cross for disaster relief efforts