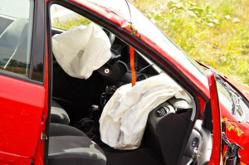 When airbags are improperly manufactured or when they malfunction, vehicle occupants are exposed to serious injury risks,
Newport Beach, CA (PRWEB) November 15, 2012
Chrysler LLC is recalling more than 919,000 older-model Jeep SUVs worldwide because the airbags in these vehicles can inflate even as people are driving them. According to a Nov. 9 Associated Press news report, the National Highway Traffic Safety Administration (NHTSA) states that the recall affects Jeep Grand Cherokee SUVs from the 2002 to 2004 model years and Jeep Liberty SUVs from model years 2002 and 2003.
The AP report states that a part in the airbag control computer can fail causing the front and side airbags to inflate while the vehicle is in motion. No car accidents have been reported as a result of this defect, but investigators with NHTSA found that the airbags inflated 215 times causing 81 injuries, none of which was life-threatening, the report states. Chrysler will begin to notify vehicle owners in January when the recall is expected to begin.
Airbags are an extremely important safety feature in vehicles, which ensure that occupants are protected in the event of high-impact collisions such as head-on crashes and rollovers, said John Bisnar, founder of the Bisnar | Chase personal injury law firm.
"In any crash, airbags provide that additional layer of protection from injuries," Bisnar says. "But when airbags are improperly manufactured or when they malfunction, vehicle occupants are exposed to serious injury risks."
Airbags that deploy inadvertently or for no reason can also do a lot of damage, Bisnar says. "Sudden deployment of an airbag can shock and confuse a driver and could lead to a crash. In some cases, the airbags can deploy with such force that it can cause serious injuries to vehicle occupants. It is important that the owners of these recalled vehicles take their SUVs to the dealer right away for a thorough inspection."
About Bisnar | Chase
The California Airbag Failure Lawyers of Bisnar | Chase represent victims of auto accidents, defective products, dangerous roadways, and many other personal injuries. The firm has been featured on a number of popular media outlets including Newsweek, Fox, NBC, and ABC and is known for its passionate pursuit of results for their clients. Since 1978, Bisnar | Chase has recovered millions of dollars for victims of auto accidents, auto defects and dangerously designed and/or maintained roadways.
For more information, please call 800-561-4887 or visit http://www.bestattorney.com for a free consultation.
Source: http://www.usatoday.com/story/money/cars/2012/11/09/chrysler-recall-jeep-air-bags/1694141/