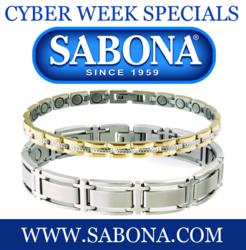 Sikeston, MO (PRWEB) November 19, 2012
Sabona of London, the premier manufacturer and marketer of copper and magnetic jewelry, would like to take this opportunity to show appreciation to our customers. During the beginning of the holiday season, they want to say "Thank you" to customers. Sabona's had such a great year so far and are very thankful to have such great customers.
In the spirit of appreciation, Sabona wanted to do something very special for customers. Sabona of London, Inc. will be offering specials every day of the week during Cyber week. This week is November 26 through November 30. This will be the first ever "Cyber Week" sale. Please like us on facebook at http://www.facebook.com/Sabona.US to check out the specials for that week,for future sales and giveaways. You may also view the specials on a daily basis at the company website http://www.sabona.com.
Also watch for special offers during December 1st through December 25th for Christmas season.
From all of us at Sabona we want to wish you a "Happy Thanksgiving."
For more information on these specials, call 800-497-4199 or e-mail jstallings(at)sabona(dot)com. Offer is good while supplies last.
About Sabona of London Unlimited, Inc.:
Sabona of London, Inc., established in 1959, has a long history as the premier manufacturer and marketer of copper and magnetic jewelry worldwide! The expanded Sabona product line includes Copper Magnetic Bracelets and Stainless Steel Magnetic Bracelets as well as Pro Magnetic Sport silicone wristbands and Sabona Athletic Bracelets, a line of fabric magnetic bracelets. In addition to magnetic bracelets, Sabona offers Copper Thread Supports, a line of supports for the knee, ankle, elbow, etc. that feature 5% copper thread in the fabric.
Contact:
info(at)sabona(dot)com
800-497-4199