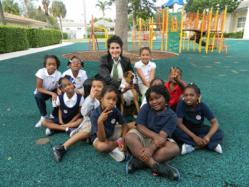 It was such an honor to have spoken at Kids In Distress. I was thrilled to be able to educate our youth about the importance of reporting fraud and instill in young children the significance of doing the right thing. -- Linda Webb, the Fraud Dog
Fort Lauderdale, FL (PRWEB) November 15, 2012
Webb showed videos to the children about her anti-bullying campaign, as well as, as a video regarding emails and text messages that target children. As International Fraud Awareness Week comes to a close on November 17, 2012, Webb sends a strong message that through education at all levels; fraud can become a mechanism of the past. Through education and awareness, the public can arm themselves in the fight against fraud.
"It was such an honor to have spoken at Kids In Distress. What this organization is doing for the community is heartwarming and I feel incredibly fortunate to be able to give back to such a wonderful organization. I was thrilled to be able to educate our youth about the importance of reporting fraud and instill in young children the significance of doing the right thing," said Linda Webb.
Linda Webb is a leading fraud expert and also the president of a successful insurance services company, Contego Services Group, LLC. Contego provides game-changing insurance services and cost containment solutions. Services include Investigative Services, SIU & Fraud, Subrogation, Due Diligence, Loss Control, and Transportation & Translation. For additional information on Contego Services Group please visit http://www.ContegoServicesGroup.com or contact Jessica Custer at 954-556-1616.
Media Contact:
Jessica Custer
954-556-1616
http://www.TheFraudDog.com
JCuster(at)ContegoGroup(dot)com
###