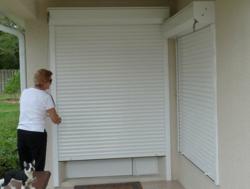 Homeowners are diligently seeking security and storm protection and we want to offer them extra savings on our quality storm protection products during our exceptional fall promotion.
Sunrise, FL (PRWEB) November 14, 2012
HurricaneShuttersFlorida.com, has been a leader in the hurricane shutter industry for over 8 years and recently launched their Fall Free Shipping and Fall Coupon Promotions from their headquarters in Sunrise, FL. For a limited time only, all orders over $3,500.00 will receive free shipping within the Continental U.S. Additionally, HurricaneShuttersFlorida.com has many fall savings coupons now available on their website, offering up to $2,000 off their lines of storm shutter products.
According to Insurance Information Institute, homeowners' insurance around the country increased 10%-20% in 2011 due to storm and wind damage claims. Over 50 million dollars was spent on repairs. Home and business owners have endured the struggles and stress of property destruction and loss of business due to storm related damage. The importance of protecting property from storms and hurricanes has become particularly evident after witnessing the damage caused by hurricane Sandy.
Hurricane Shutters Florida designs and manufactures hurricane shutters, security shutters, and storm protection panels and ships their products worldwide. With factory direct shipping, they are able to pass the savings on to their customers. HurricaneShuttersFlorida.com is a leading hurricane shutter company and reports over 100,000 targeted visitors annually to their website. Hurricane Shutters Florida specializes in custom storm shields for any window or entrance, regardless of size or shape. This leading storm shutter company offers professional knowledge and superior products, not only for home and business owners, but architects and builders as well.
HurricaneShuttersFlorida.com boasts a variety of shutter styles to fit most any size window or entrance way on homes and businesses. Roll down shutters are a popular shutter choice and are designed to offer storm protection as well as added security. Hurricane Shutters Florida's rolling shutters are constructed of the finest grade of aluminum for maximum impact resistance and durability. Another style shutter that many home and business owners prefer is the accordion shutter, due to the affordable cost and ease of use. The accordion shutter is ideal for patios, balconies, terraces, and storefronts with large expanses. The accordion shutter has a locking feature for increased protection against storms, high-winds, and forcible entry. Alternately, storm panels are a cost effective solution to the ravages of wind and rain and airborne storm debris. Made from aluminum or polycarbonate, the panels are easy to install, remove, and store. Storm panels are an economical choice and offer superior storm protection. Some of the other styles of hurricane storm shutters are the Bahama Shutters and Colonial Shutters. The Bahama impact shutters are made from extruded aluminum. The Bahama shutter features horizontal slats that allow diffused sunlight or fresh air to enter the home, which is great for energy savings for homeowners.
When asked about the fall promotion, owner Michael Joiner commented, "We know the recent hurricane has been tragically devastating to many folks. There is an increased awareness of the magnitude of damage a hurricane can present. Homeowners are diligently seeking security and storm protection and we want to offer them extra savings on our quality storm protection products during our exceptional fall promotion."
Storm shutters are ideal for not only hurricane and storm protection but also home security, business security, and temperature/UV damage control. To receive a free quote on any of their shutter products, please visit HurricaneShuttersFlorida.com and take advantage of their free shipping promotion and savings coupon offers or call 1-888-474-3555.