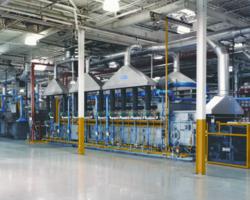 "This is Can-Eng's 5th system supplied to Commercial Steel Treating/ Curtis Metal Finishing and reflects our experience developing heat treatment systems designed to handle tight tolerances and complex shaped parts." Tim Donofrio, V.P. Standard Equipment.
Niagara Falls, Ontario, Canada, November 14, 2012 (PRWEB) November 16, 2012
Can-Eng Furnaces International Limited has entered into a contract to supply a complete large capacity Continuous Mesh Belt Atmosphere Furnace System for Commercial Steel Treating Limited of Madison Heights, Michigan. This system is designed to provide neutral hardening and carbonitriding processes for high volume automotive fasteners and small stamping products. The automated 4000 lb/hour system includes a computerized loading system, mesh belt atmosphere furnace, oil quench system, pre and post wash systems and level 2 automation systems. This order represents the fifth system supplied to Commercial Steel Treating and Curtis Metal Finishing and reflects Can-Eng's extensive experience developing state-of-the-art continuous mesh belt atmosphere heat treatment systems designed to handle production requirements relating to tight tolerances and complex shaped parts.
Can-Eng's Continuous Mesh Belt Atmosphere Heat Treatment Systems are recognized worldwide and have proven to meet and exceed the stringent demands of the Global Automotive Industry through successful individual automaker audits and AIAG CQI – 9 assessments.
This installation represents one of a number of new mesh belt installations that Can-Eng Furnaces International is currently commissioning for manufacturers around the world. Due to high demand from Tier 1 suppliers to Global Automotive Markets, Can-Eng has added a third manufacturing facility for the assembly and testing of its Continuous Mesh Belt Atmosphere Furnaces. The new satellite facility, located in Niagara Falls, Ontario is in close proximity to Can-Eng's corporate office. Multiple systems will be delivered to Koelner Łańcucka Fabryka Śrub of Poland. In addition a continuous salt quench austemepring system will be delivered to Mexico and support the manufacture of automotive powertrain systems there.
Established in 1964, CAN-ENG Furnaces International Limited has grown to become a leading designer and manufacturer of thermal processing equipment for ferrous and non-ferrous metals. Whether manufacturing a simple, manually controlled furnace or a turnkey automated system, CAN-ENG focuses on the development of high volume continuous industrial furnaces for challenging applications. Commercial Steel Treating was founded in 1927 and has grown to become one of the largest commercial heat treating facilities in the United States. Commercial Steel Treating offers a wide array of Heat Treating Services, which include; continuous and batch hardening, salt bath nitriding and gas nitriding. For further information please contact Tim Donofrio – Vice President, Standard and Aluminum Products at tdonofrio(at)can-eng(dot)com.