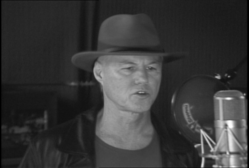 Great choices in the studio makes great sound.
Rockwood, Ontario, Canada (PRWEB) November 16, 2012
Among the twelve tracks on the album are new originals written and produced by Robert at Neptune Sound Studio. The three cover songs venture into the musical domains of Frank Sinatra, Bobby Darin, April Stevens and Nino Tempo. For Robert, this meant getting a particular unique sound.
The album track sounds attribute to rare, one of a kind features found at Neptune Sound Studio. Among them are the "Electro-acoustic Sound Diffuser" and a re-fitted Neumann U47 SVF14M.
"Playing for audiences in Morocco Africa was quite an experience" Robert said. "The people there were warm and friendly and the audiences were enthusiastic. It sure is different there as compared to here in America. I was a guitarist under contract for nine weeks. Rick's Cafe was right down the street but there was always something in the way of getting there."
"I have always loved the sound of the Neumann U47 microphone" said Robert. "I knew that the one at Neptune Sound Studio would shine on this record. Like most of these particular microphones, the original obsolete vacuum tube had been replaced. This meant taking some time out to rework the microphone back to the original voltage, current and ultimately, the sound. I know now that the sound is right. The before and after is like night and day. I felt that getting the original sound of the microphone was important for the new record."
Favorite cover tracks on the album include "The Best Is Yet To Come, Mack The Knife, and Deep Purple". " I had always marveled at the way Frank Sinatra, the Count Basie Orchestra with Quincy Jones conducting covered that song. I re-arranged the guitar track so that I could play the guitar track, horn lines included and not have to overdub."
"Strange Loco Motive" is a complex piece Robert wrote while siting at the piano. "Please Don't Look" is a song written in a dream. "Great songs come from dreams" says Robert. The rest of the album completes Robert Seagrove's latest original recordings.
http://www.robertseagrove.com/
Robert Seagrove - Bio
Robert has spent the bulk of his music career as a guitarist, singer putting together a number of bands spanning decades while writing and producing music. Past releases have found their way to admirable rotation on some commercial radio airwaves. Robert has entertained audiences at many popular hotels and chains including Sheraton Hotels, Hyatt Regency Hotels, Park Plaza Hotels. Others include High Schools, Universities and performance halls. He also works as a freelance guitarist, founded Neptune Sound Studio, designs, repairs, modifies and builds high end audio equipment. Most notable achievements include the invention of "The Electro Acoustic Sound Diffuser" for the electric guitar.