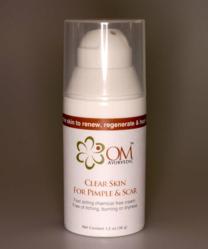 Skin care product should really be caring for your skin and not harming it with the use of toxic chemicals.
Apex, NC (PRWEB) November 26, 2012
Until now, most acne remedies on the market contained chemicals like benzoyl peroxide, salicylic acid or sulfur. These chemicals not only cause burning, irritation and dryness, it can also cause premature aging and thinning of skin. In search of a safe and effective alternative to these harsh chemicals, scientist at OM Ayurvedic™ developed Clear Skin, a 100% natural and holistic solution that gets rid of acne typically in two to seven days. When used in conjunction with their one step face wash, Clear Skin not only eliminates acne pimples, it also minimizes the acne scars.
For thousands of years Ayurveda has taught that the skin absorbs nutrients that will affect our body on a cellular level, therefore, nothing should be applied to the skin if it cannot be taken internally. Based on this philosophy, Clear skin is formulated with clinically proven, botanical ingredients to regulate sebum, eliminate acne causing microbes, and provide nourishment to skin cells... naturally! It provides complete healing and rejuvenation for teen acne as well as adult acne and scars.
OM Ayurvedic™ is dedicated to promoting and supporting safe, natural and chemical free lifestyle. Inspired by the ancient Ayurvedic tradition of India, OM Ayurvedic™ manufactures and markets only truly holistic products for beauty, health and wellness consumers. Additionally, founded by a vegan CEO, the company opposes animal testing and all their products are cruelty free and vegan. OM Ayurvedic™ is also committed to supporting small farmers using organic and sustainable methods in producing their ingredients and companies promoting fair trade practices. Acne Clear is manufactured in USA in their Apex, NC facility under clean-room environment.