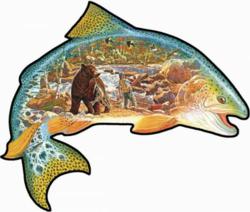 (PRWEB) November 15, 2012
The Made In America Store is prepping for the holiday shopping season by presenting some great gift ideas. With over 80 different kinds of puzzles, there is sure to be a theme that is perfect for everyone. For the puzzle lovers or the people on your list that are difficult to buy for, there is sure to be a puzzle to fit everyone.
The Made In America Store is devoted to bringing 100% US manufactured products to your front door, click here to start shopping today!
It's no surprise that during the holiday season, consumers are looking for toys more than ever. The consumers looking specifically for American made toys in the past decade have probably been disappointed with the lack of vendors. The Made In America Store is hoping to change that trend.
Since the Made In America Store's grand opening in 2010, vendors from all over the nation have been coming to pitch their products, even toy manufacturers. At first, only 50 products were on the shelves of the all US made products store but the movement caught on. Today, the Made In America Store carries over 4,600 products; Each 100% US manufactured.
Get your 100% US manufactured puzzle for that special someone, visit the Made In America Store today!
The puzzles from the Made In America Store range in difficulty, coming in smaller 50 piece puzzles and going as high as 1,500 pieces. Themes range from Televisions Shows, Movies, Actors/Actresses, Cars and more. Some puzzles even form a shape when it is finally put together!
The Made In America Store is the only brick and mortar store that sells 100% made in the United States products from over 350 vendors. Consumers can visit http://www.MadeInAmericaStore.com or call 716-652-4872 to get more information or shop our catalog of over 3,500 items. Both Active Duty Military Personnel and U.S. Military Veterans receive a 10% discount every day. Followers of the "Made In America" movement can keep updated with the Made In America Store through Facebook, Twitter, Google+, Pinterest, FourSquare and even their own blog on Wordpress!