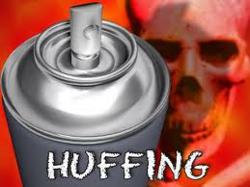 "If sufficient amounts are inhaled, nearly all solvents and gases produce anesthesia — a loss of sensation — and can lead to unconsciousness."-National Institute on Drug Abuse.
Scottsdale, AZ (PRWEB) November 20, 2012
The 02 Hurricane Canless Air System is seeking to end the growing huffing epidemic in the United States with a new safe alternative.
Huffing is the inhaling of dangerous gasses that are in canned air dusters. According to Inhalant.org, "Experts estimate that there are several hundred deaths each year from Inhalant Abuse, although under-reporting is still a problem."
"I think most people think that canned air is just that, air," says John Scherer, CEO and Founder of the 02 Hurricane, a canless air system that uses the air we breathe. "Instead the duster cans are full of dangerous, and yes, deadly gasses that are killing kids." The real problem Scherer says is, "Kids can buy it at local stores. You might even have the stuff on a shelf at home."
The best way to stop huffing is to eliminate the source and that's where Scherer says his product comes in. "The 02 Hurricane uses pure air, the air we breathe. There's a reason that canned air comes with all sorts of warning labels. It's dangerous! The 02 Hurricane doesn't need a warning label because there is nothing to warn about. It's absolutely safe for your entire family to use."
Contrast that to the dangers of inhalants like canned air. According to National Institute on Drug Abuse, "Irreversible effects can be hearing loss, limb spasms, central nervous system or brain damage, or bone marrow damage. Sniffing high concentrations of inhalants may result in death from heart failure or suffocation (inhalants displace oxygen in the lungs)."
It's a subject Scherer and his team are paying very close attention to. "Hardly a day goes by where we don't read stories involving huffing. They involve serious injury, people huffing then driving, causing all sorts of accidents and even worse, death. It's a menace. Period."
Just how big is the danger? The National Survey on Drug Abuse and Health reports "In 2009, 2.1 million Americans age 12 and older had abused inhalants. The NIDA-funded 2010 Monitoring the Future Study showed that 8.1% of 8th graders, 5.7% of 10th graders, and 3.6% of 12th graders had abused inhalants at least once in the year prior to being surveyed."
"That is unacceptable, and avoidable," says Scherer. The best way to eliminate huffing and inhalant abuse it to eliminate the source, which in many cases is so-called canned air. The 02 Hurricane, using just pure air give families and businesses a safe option."
Another advantage of the 02 Hurricane, which is assembled in the USA is it's rechargeable. "You charge it like your cell phone up to 500 times. So along with the safety of using pure air, there are no hazardous waste issues. It's safe for your family, it's safe for the environment and it saves you money."
Ultimately Scherer says it's about saving lives. "It's about kids, it's about the safety of innocent victims of people who huff canned air, then get behind the wheel of a car. Finally there's a safe alternative and we're happy to provide it to consumers. It's one of the reasons we're getting such terrific reviews"
Consumers now have a choice over dangerous canned air dusters for use in the home and office.
Learn more about the 02 Hurricane:
http://www.CanlessAir.com.