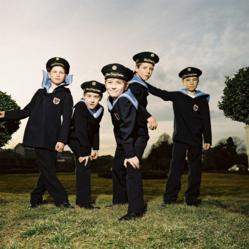 Baltimore, Md. (PRWEB) November 15, 2012
Renowned for their angelic voice and pure sounds, the Vienna Boys' Choir will fill the Joseph Meyerhoff Symphony Hall with angelic voices and pure sounds on Saturday, December 8 at 7:30 p.m. Don't miss this spectacular concert featuring Austrian folk songs and waltzes, classical masterpieces, pop tunes and holiday favorites. Note: The BSO does not perform on this program. Please see below for complete concert details.
About the Vienna Boys Choir
In 1498 Emperor Maximilian I moved his court and his court musicians to Vienna, and gave instructions that there were to be six singing boys among his musicians. Until 1918, the choir sang exclusively for the imperial court, at mass, private concerts and functions, and on state occasions. In 1918 the Austrian government took over the court opera, its orchestra and the adult singers, but not the boys' choir. The Vienna Boys Choir owes its survival to Josef Schnitt, who became Dean of the Imperial Chapel in 1921. Schnitt established the boys' choir as a private institution. The former court choir boys became the Wiener Sängerknaben (Vienna Boys Choir), the imperial uniform was replaced by the sailor suit. Funding was not enough to pay for the boys' upkeep, so in 1926 the choir started to give public concerts, performing motets, secular works and children's operas.
Today there are around 100 choristers between the ages of 10 and 14, divided into four touring choirs. The four choirs give around 300 concerts and performances each year in front of almost half a million people. Each group spends 9 to 11 weeks of the school year on tour. Together with members of the Vienna Philharmonic Orchestra and the Vienna State Opera Chorus, the Vienna Boys Choir maintains the tradition of the imperial musicians: as Hofmusikkapelle they provide the music for the Sunday Mass in Vienna's Imperial Chapel, as they have done since 1498.
The choir's repertoire includes everything from medieval to contemporary and experimental music. Motets and lieder for boys' choir form the core of the touring repertoire, as do the choir's own arrangements of quintessentially Viennese music, waltzes and polkas by Lehar, Lanner and Strauss. The choir also takes part in opera performances at the Vienna State Opera, the Vienna Volksoper and the Salzburg Festival. Choristers appear as three boys in Mozart's The Magic Flute.
COMPLETE PROGRAM INFORMATION
Saturday, December 8, 2012 at 7:30 pm—Joseph Meyerhoff Symphony Hall
Vienna Boys Choir
Please note: The Baltimore Symphony Orchestra does not perform on this program.
Tickets for this concert range from $25 to $50 and are available through the BSO Ticket Office, 410.783.8000 or BSOmusic.org.