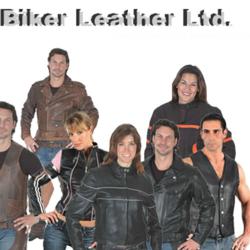 Your site is very informative, and straight up on the product. Thanks again!
-Steve
Jacksonville Beach, FL (PRWEB) November 20, 2012
With holiday season in full swing there is no better gift for a biker than a new set of leathers. For that reason Biker Leather Ltd is currently offering free shipping on all domestic order over $100 from now until Christmas. For the average biker, motorcycle riding is a way of life, not just something they do when the weather is nice. In the winter the roads get even more dangerous for bikers as they are wet and sometimes icy. Buying your loved one a quality set of riding gear not only puts a smile on their face, it shows your concern for their safety as well.
Most people see the leather motorcycle jackets, vests, and chaps as a fashion statement made by bikers or motorcycle enthusiasts. In fact wearing leathers is the ultimate form of protection in the event of a wreck. Most motorcycle accidents send the rider sliding off the bike and down the road which at high speeds acts like sand paper shaving away layers of skin if not protected properly.
Biker Leather Ltd is an online retailer specializing in quality riding grade leather apparel for the motorcycle enthusiast or "biker" as many call them. They have been selling leather riding gear worldwide since 2004. The owners of Biker Leather Ltd are dedicated to providing their customers with top quality leathers that are comfortable and provide maximum protection. In 2009 Biker Leather Ltd teamed up with the blog "Motorcycle Leather Web 2.0". The blog is an informative and entertaining place for those who want to shop for leather gear online. One of its main focuses is informing the online shopper of what to look for and how to find quality leather products online that are functional and stylish.
During the Christmas season Biker Leather Ltd is offering prices 30-70% lower than a brick and mortar store. With large selection of leathers ranging from soft light weight motorcycle jackets to the ultimate top quality naked leather motorcycle chaps, jackets, and vests. Naked Leather is leather that has been dyed, with no other finishes applied. Products made with Naked Leather are more expensive, because they use a higher grade of leather with few blemishes. They also carry a quality line of one and two piece leather racing suits.