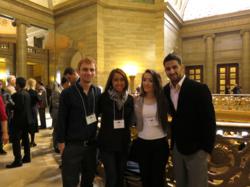 "One of our first-year seminars studied terrorism and the upper class student mentor was from Gaza. Hs personal experiences brought many of the course concepts to life for U.S. students who had never traveled beyond Missouri."
(PRWEB) November 15, 2012
The number of international students attending American colleges and universities is on the rise, according to a report issued by the Institute of International Education (IIE) in partnership with the U.S. Department of State's Bureau of Educational and Cultural Affairs Nov. 12.
The statistics in Open Door 2012 reveal the number of international students at colleges and universities in the U.S. increased by 6 percent in the 2011-2012 academic year, reaching a record high of 764,495 students and contributing $22.7 billion to the American economy.
The growth is largely driven by strong increases in the number of students from China, which has increased by 23 percent.
"Today's youth are tomorrow's leaders," says Ann Stock, Assistant Secretary of State for Educational and Cultural Affairs. "International education creates strong, lasting relationships between the United States and emerging leaders worldwide. Students return home with new perspectives and a global skill set that will allow them to build more prosperous, stable societies."
International students, such as those at Westminster College, a private undergraduate liberal arts college in Fulton, Mo., bring their diverse backgrounds and perspectives to the classroom and campus life.
"Over the past decade, Westminster College has intentionally created a global community consisting of students from almost 70 countries," says Westminster President Dr. George B. Forsythe. "Meaningful encounters of substantial duration with different cultures broaden students' perspectives and nurture a deeper understanding of their own culture's place in the global community."
Among all American liberal arts colleges, Westminster is tied for fifth with Bryn Mawr College for percentage of international enrollment, ahead of other Ivy League schools such as Wellesley College, Middlebury College and Amherst College. According to the new national report, international students make up 16 percent of the total Westminster College enrollment.
Forsythe stresses that Westminster goes beyond simply bringing students from around the world to campus by fully immersing domestic and international students together in the Westminster experience, creating a "true global community built on genuine understanding, mutual respect, common values, and shared goals."
According to Forsythe, international students integrate into Westminster's campus life, serving in student government, joining fraternities and sororities, playing on sports teams and enriching the classes with their experiences and perspectives
"Several years ago, one of our first-year seminars studied terrorism and the upper class student mentor was from Gaza," says Forsythe. "His personal experiences brought many of the course concepts to life for U.S. students who had never traveled beyond Missouri."
Westminster Professor Bill Guinee says international students are a wonderful compliment to his cultural anthropology classes, which study the similarities and differences between the world's living cultures.
"When I have international students in the class, they frequently contribute by acknowledging that the practices we are studying occur in their cultures," says Guinee. "This has the effect of taking the topic out of the book and the professor's lecture and making it real and meaningful for all students. They recognize that the topics they are studying have real impacts on the lives of people that they know."
Findings of the Open Doors report are published annually by the Institute of International Education (IIE) in partnership with the U.S. Department of State's Bureau of Educational and Cultural Affairs. Details of Open Doors 2012 can be found at http://www.iie.org/en/Research-and-Publications/Open-Doors/Data.
The IIE is the leading not-for-profit educational and cultural exchange organization in the United States and has conducted an annual statistical survey of international students in the U.S. since 1919.
"We believe our graduates are better prepared to thrive in an interconnected world because of this intensive immersion experience," says Forsythe. "By opening students' eyes to the world around them, universities can promote personal growth and practicality and some semblance of job security in an economy that is struggling to provide opportunities for our graduates. Our world is built on these vital connections between nations and cultures."
Founded in 1851, Westminster College is one of the top liberal arts colleges in America, according to all major educational ranking firms including U.S.News & World Report, Forbes magazine, The Princeton Review and Washington Monthly. National high school counselors recognize Westminster as one of the top two liberal arts colleges in Missouri to receive the best education. This selective college for men and women operates on two campuses, one an 86-acre residential campus in Fulton, Mo., and a second Southwestern, urban campus in the vibrant downtown of Mesa, Az. Westminster is a challenging academic environment where students are educated to lead and inspired to achieve.
To learn more about Westminster College, visit http://www.westminster-mo.edu.