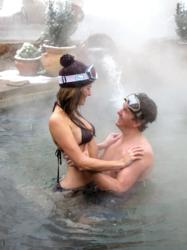 "The winter season is an amazing time to visit Ojo. The combination of the crisp cold air with a soak in the steamy, soothing hot springs provides a rejuvenating experience for mind, body and soul." –Wendi Gelfound, Director of Marketing
Ojo Caliente, NM (PRWEB) November 15, 2012
Winter is an ideal time to make a visit to Ojo Caliente Mineral Resort & Springs where—although it might be cold outside—its warm and steamy in the mineral springs that have been keeping the cold at bay for 144 years. Ojo has many options for creating the kind of winter getaway you have been dreaming of, whether it's a one-night escape filled with spa indulgences, a winter après ski visit, a gal pal getaway, or a romantic two-day couple's retreat complete with a private tub, champagne and chocolate truffles, Ojo's soothing mineral springs and spa will defrost your bones and rejuvenate throughout the chilly season.
Ojo's Après Ski special, gives any snowboarder or skier a 20% discount for entry into the Springs or for an overnight stay in any of Ojo's lodging options, which include charming cottages, enchanting suites with kiva fireplaces, and private homes.
Visitors can "Triple the Warmth" by staying two nights and getting the third night free, from Saturdays through Wednesdays. Ladies can take advantage of a deluxe "Girls Getaway" for two-nights full of pampering including a choice of Ojo Custom Massage, Ojo Custom Face Therapy or Sacred Journal Aroma Wrap, plus a private tub with fireplace and unlimited access to all mineral pools, steam room & sauna. New Mexico residents get a free entry to the springs on birthdays!
During your visit, enjoy casual dining and charming atmosphere in The Artesian Restaurant. Ojo's Chef blends local flavors with global cuisine to create a delightful menu that ranges from seasonal Southwestern favorites to a variety of international dishes. Lighter fare, including homemade pizzas, burgers and green chile fries, plus an extensive selection of local and imported wine and beer are available in the Wine Bar & Lounge.
Details and more seasonal specials can be found on Ojo's website. Plan your trip now and create your own Ojo experience. Ojo recently won "Best Day Trip from Santa Fe" in the Santa Fe Reporter's Best of Santa Fe reader's poll.
###
Ojo Caliente's Recent Accolades
2012 Certificate of Excellence Award from Trip Advisor
One of the Best Desert Getaways – Outside Magazine Online
Top 10 Resort Spas – Away.com
Top 5 Favorite Mineral Springs Spas & Top 5 Most Affordable Spas – Spa Magazine
Top 10 Favorite Mineral Springs Spas in the World – SpaFinder Magazine
The secluded sanctuary that is Ojo Caliente is tucked into a cottonwood dotted river valley just north of Santa Fe and just south of Taos, NM. Opened in 1868, Ojo is one of the oldest natural health resorts in the United States, and the only hot springs in the world with four unique, sulfur-free healing mineral waters: iron, arsenic, soda and lithia. Deemed sacred by the Native Pueblo tribes of Northern New Mexico, Ojo has been a gathering place for diverse groups for thousands of years.
Ojo is both historic and fresh with eclectic charm in a relaxed and tranquil environment. It boasts a rejuvenating full-service spa, utilizing a range of Native American- and East Indian-inspired therapies, which incorporate wild crafted and indigenous herbs, flowers and essential oils. The resort consists of 48 beautifully appointed New Mexico style lodging units, including enchanting suites, charming cottages, the Historic Hotel and private homes. The Artesian Restaurant serves up fresh, inventive, locally-influenced foods, as well as international dishes. Lighter fare, plus an extensive selection of local and imported wine and beer are available in the Wine Bar.
JLH Media
505 577 1347
jpadilla(at)jlhmedia(dot)com