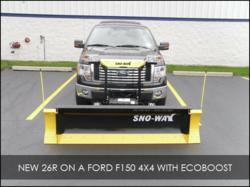 "I have been looking for a plow for my F-150 for months and finally I found the Snoway 26r."
- George, Wayne MI
Hartford, WI (PRWEB) November 15, 2012
SNO-WAY Research & Development has successfully completed field tests with SNO-WAY 26 Series snow plows and the 2011-2012 Ford F-150 trucks, including the popular Ecoboost model.
Ford-150 truck owners will be excited to know that SNO-WAY, a manufacturer for snow and ice control equipment, has successfully tested and approved their 26 Series plows for use on the 2011-2012 Ford F-150 series trucks. Successful field test results were also obtained from actual end users and owners of F-150 trucks during both actual plowing operations and road transport situations.
SNO-WAY engineers created a special sub frame for the Ford F-150 trucks that maximize air flow to the truck while still being able to support the plow. SNO-WAY delivers one of the lightest plows using high strength industrial steel to minimize the weight on the front end of the truck. SNO-WAY couples their patented down pressure system with these light plows to maximize productivity.
For three decades, SNO-WAY plows and spreaders have helped thousands of homeowners, small businesses, plowing contractors, and municipalities remove snow and control ice. Their stronger, smarter, better slogan is no idle boast considering their dozens of industry patents.