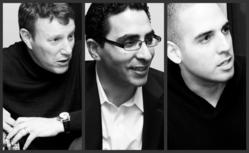 "The entrepreneurial mentality and the startup passion remain at the core of Synacor, and we're thrilled to be a part of Startup Weekend..." -- George Chamoun, EVP and Synacor co-founder
BUFFALO, NY (PRWEB) November 15, 2012
Synacor, Inc. (NASDAQ: SYNC), leading provider of next-gen startpages, TV Everywhere solutions and cloud-based services across multiple devices for cable, satellite, telecom and consumer electronics companies, today announced that Synacor's Jordan Levy, George Chamoun and Jaafer Haidar will be featured guests at Startup Weekend Buffalo, which takes place November 16-18.
Startup Weekend is a non-profit, community-building event that brings together entrepreneurs of different backgrounds, including software developers, marketers, designers and other enthusiasts. Participants have 60 seconds to pitch their idea and receive feedback from peers, judges and potential investors.
"A decade of growth and success, but it seems like yesterday that we started Synacor in Buffalo. The entrepreneurial mentality and the startup passion remain at the core of Synacor, and we're thrilled to be a part of Startup Weekend, uncovering great talent and technology concepts right here in Buffalo," said George Chamoun, EVP and Synacor co-founder. "The best companies are started by passionate founders with a sense of urgency and inspiration to meet an unmet market demand, and I look forward to hearing the pitches and meeting the Startup Weekend participants."
Chamoun as well as Jordan Levy, chairman of the board for Synacor, partner at Softbank Capital and co-founder of Z80 Labs, will serve as judges, along with Andrew Mager of Spotify. Jaafer Haidar, Synacor VP of Mobile and Multiscreen Strategy, and co-founder of Synacor's recently acquired startup, Carbyn, will serve as a guest speaker along with Tom McManus from KegWorks and Eric Reich from Campus Labs.
"Entrepreneurs are the lifeblood of the economy; the source of innovation, solving problems no other company is, and delighting consumers in a way no other company can—that's what Synacor is about, and it's what we'll find among Startup Weekend participants. As a serial startup guy, I'm excited to share my insights with this group of talented entrepreneurs," said Haidar. "Seeking experienced mentorship from the very start is critical to every great startup, and this event is the perfect environment for finding the next great Buffalo-based startup."
Startup Weekend is the largest community of passionate entrepreneurs, with over 400 past events in 100 countries around the world in 2011. The non-profit organization is headquartered in Seattle, Washington, but Startup Weekend organizers and facilitators can be found in over 200 cities around the world.
For more information on Synacor's startpage, TV Everywhere and cloud services, please visit synacor.com or email tellmemore(at)synacor(dot)com.
About Synacor
Synacor's customer-branded platform enables cable, satellite, telecom and consumer electronics companies to deliver TV Everywhere, digital entertainment, services and apps to their end-consumers, strengthening those relationships while monetizing the engagement. Synacor is headquartered in Buffalo, NY. For more information, visit synacor.com. Integrate. Authenticate. Engage.