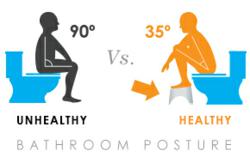 I have suffered from hemorrhoids for many years and using the Squatty Potty has been a small miracle.
St George, Utah (PRWEB) November 15, 2012
The Squatty Potty, a toilet footstool that is leading the squatting movement worldwide, is helping senior citizens improve digestive health during their golden years by adjusting their toilet posture.
"I am a retired biology teacher, and the anatomical correctness of the squatting position is undeniable," said 60-year-old Squatty Potty customer Ann Gaydosh of Davenport, Iowa. "Squatty Potty provides the means to achieve a natural function in an instinctive position. Several abdominal surgeries, including a rectocele repair, made my daily movements inconsistent and sometimes challenging. Squatty Potty makes the process so quick and complete."
Manufactured in the USA, the Squatty Potty is a toilet footstool designed to improve bathroom posture by helping assume the squatting position for more effective elimination. Recently featured on The Dr. Oz Show and The Doctors, the Squatty Potty has a convenient design that allows it to be easily stored at the base of the toilet to prevent clutter of the bathroom. Many of Squatty Potty's senior customers use the 5-inch Squatty Classic footstool to help them elevate their feet for better elimination without encountering knee pain.
"The Squatty Potty has made a world of difference in my bathroom visits," said 84-year-old Squatty Potty customer Lois Murphy of Clearwater, Fla. "I have suffered from hemorrhoids for many years and using the Squatty Potty has been a small miracle. Using the Squatty Potty is easy and my bowel movements require less strain and take so little time that I have to do my reading on the couch."
The concept of squatting has become a rising trend in health circles as doctors, naturopaths and holistic health professionals have highlighted the health drawbacks of the modern toilet. According to these experts, squatting also leads to better elimination and helps in the prevention of colon disease, constipation, hemorrhoids and similar ailments.
James Taylor, age 69, of San Diego, Calif., lives in a senior community and recommends Squatty Potty footstools to his fellow residents. "The Squatty Potty has been a life saver," said Taylor. "Being on pain meds for 25 years and undergoing 13 lower back surgeries has made my trips to the bathroom extremely difficult. As you get older, so many problems come up and this is one you don't want, but this simple, natural solution lets me go out to dinner and the movies with peace of mind."
Squatty Potty's story began in May 2010, when Judy Edwards sought relief from lifelong constipation by gathering boxes and stacking phone books in front of the toilet to serve as squatting platforms. The results were immediate, but the unstable foundation and inconvenience caused by the clutter prompted Judy and her husband, Bill, to solicit the services of their son, Robert, to produce a stool that could be stored discretely under the toilet. After consulting with doctors, nurses, alignment specialists and natural health experts to identify the perfect height, position, and angle ideal for squatting, Robert designed the Squatty Potty in his parents' garage – the solution to Judy's and countless others' colon problems.
"Seniors have proven to be huge beneficiaries of the Squatty Potty," said creator Robert Edwards. "Having supported my mom through her digestive health battles, it is very rewarding to provide a product that is affecting so many thousands of lives for the better."
Pricing and Availability
The Squatty Potty product line includes three popular models: Squatty Ecco (US$34.95), Squatty Classic (US$59.95) and Squatty Tao Bamboo (US$79.95). The Squatty Potty comes in three sizes: 5-inch, 7-inch and 9-inch, which can be purchased at http://www.squattypotty.com/.
Press Kit
High-resolution images of the product and embeddable videos can be found in the Squatty Potty online press kit: http://www.squattypotty.com/pressroom-s/1513.htm.
About Squatty Potty
Launched in late 2011, Squatty Potty, LLC, (http://www.squattypotty.com) has created a safe, natural, simple solution that allows for easier elimination. The Squatty Potty offers a better bathroom experience by aligning the colon in a natural angle for faster, more effective colon evacuation. The Squatty Potty is designed to help assume the squatting position, which helps alleviate suffering from hemorrhoids, constipation, colon disease and pelvic floor issues. Squatty Potty is proudly manufactured in the USA and has shipped its toilet stool to all 50 United States and every continent except Antarctica.
###
Press Contact
Katy Kenealy
Squatty Potty Public Relations
801.828.6056
katy(at)methodcommunications(dot)com
Jacob Moon
Squatty Potty Public Relations
801.461.9790
jacob(at)methodcommunications(dot)com