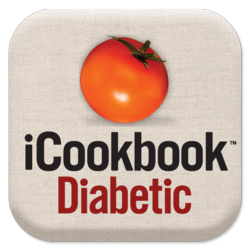 (PRWEB) November 20, 2012
Diabetes is a growing epidemic worldwide that unfortunately shows no signs of slowing down. There are more than 20 million Americans currently living with Diabetes, with more than 1.5 million new cases diagnosed each year. Today, Publications International, Ltd. (PIL), the developer of the award-winning iCookbook™ app, and the Publisher of Diabetic Cooking Magazine, have come together to create iCookbook™ Diabetic, a new meal planning app for iPhone®, iPad®, and iPod Touch®.
iCookbook™ Diabetic is designed to make eating well and living well easier for anyone with Type I and Type II diabetes. The app features hundreds of recipes with 350 calories or less, in-depth nutritional information, step-by-step instructions for easy preparation, and health-related articles on diabetic nutrition.
Each month, new recipes from Publications International's staff of food experts and Diabetic Cooking writers and editors will be added to the app as a free download, allowing users to constantly update and expand their collection. Special additional premium recipe packs will also be available for purchase from the iCookbook™ Diabetic in-app store, providing users with the best health-conscious recipes to fit every occasion.
"It's a sad fact that more people are being diagnosed with diabetes or pre-diabetes worldwide every day," said Jerry Croft, President of Cooking and Digital at Publications International. "Every person with diabetes needs to watch what they eat, and iCookbook™ Diabetic was developed to assist with this daily requirement. The app is loaded with hundreds of great recipes, all with nutritional information, and great articles and videos all in a very user-friendly application."
Interestingly enough, iCookbook™ Diabetic isn't just for people with diabetes. Everyone can enjoy the healthy recipes. Additional features of iCookbook™ Diabetic include:

Filter functions to search through recipes based on diet (such as gluten-free, low-carb, or vegan), ingredient, occasion or theme.
Kitchen tools like timers, conversion charts, substitutions and shopping lists.
Capability to upload, save and share your own personal recipes into the app.
iCookbook's™ hands-free voice command technology advances preparation instructions without ever having to touch the screen.
iCookbook™ Diabetic is currently available as a free download in the iTunes App store. For more information visit https://itunes.apple.com/us/app/icookbook-diabetic-recipes/id541245203?mt=8.
About Publications International, LTD
Publications International, Ltd. (PIL) is one of North America's leading publishers of cookbooks, with more than 400 active cookbook titles and more than 50 recipe magazine releases annually. PIL's award winning iCookbook TM platform is available on Windows, Apple and Android devices. http://www.pubint.com/
About Diabetic Cooking Magazine:
Diabetic Cooking includes nutritious and tasty recipes to help people with diabetes manage their daily meal plan. In addition to 5 chapters of recipes, there are articles on nutrition and disease management, supermarket finds, and recipe makeovers. Diabetic Cooking is the only magazine that exclusively addresses the food management and dietary needs for diabetes control. Our recipes are carefully selected to offer a variety of simple, healthful, and great-tasting meal choices that will appeal to people of any age. Diabetic Cooking is also an effective teaching tool used by diabetes educators, nutrition professionals and public health clinicians. http://www.diabeticcooking.com