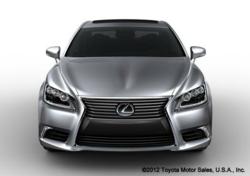 "The first Lexus LS that rolled into our dealership changed the scene of luxury automobiles and set a whole new standard. This year, the 2013 Lexus LS flagship has done it again. - Enamul Islam, Director of E-commerce
Van Nuys, CA (PRWEB) November 16, 2012
Keyes Lexus of Van Nuys, CA, announced today the arrival of the new Lexus flagship, the 2013 Lexus LS. The entirely-redesigned Lexus flagship offers the latest in technological advancements as well as a new take on passenger comfort, luxury, and performance. This will be Van Nuys' most engaging luxury vehicle ever.
Performance
The 2013 Lexus LS 460's bold exterior is only matched by its 4.6-liter V8 engine, which outputs 386 hp. Matched with an eight-speed sequential-shift automatic transmission and governed by Drive Mode Select, the Lexus LS gives you performance or economy, or a seamless blend of both, at a simple turn of the switch. Handling is enhanced by the new frame construction, utilizing stronger parts and welding in key areas to give you a solid feel for your ride. The LS 460 is available in both rear-wheel drive [RWD] and all-wheel drive [AWD]. The AWD model favors stability and control, even in the worst road conditions.
The 2013 Lexus LS 460 F-Sport adds further enhancements that you would only expect in a sportscar, such as a bigger braking system, sport-tuned air suspension, and a limited-slip rear differential [LSD]. The RWD model features downshift engine speed matching in manual control, giving you more precise shift feel when using the shift paddles. The six-piston Brembo brakes in front are mounted to 14.8" spiral-ventilated rotors, enhancing braking feel, performance, and cooling. The rear LSD assures consistent power transfer to the ground, even when cornering or on poor road surfaces.
Luxury
Smart Access is effortless, and stepping into the new Lexus LS, you immediately recognize the interaction of wood, leather, and aluminum, accented by indirect LED ambient and accent lighting that welcomes you into the vehicle. Press the Start-Stop Button, and seats, mirrors, and other personalized settings are automatically adjusted. The engine starts, the lighting fades out in sequence, and you are ready to depart. Whether you are going on vacation, a summer drive, or simply your morning commute, you can relax and focus on driving.
The new Lexus Climate Concierge System adjusts heating, ventilation, air conditioning, and seat climate controls to assure maximum passenger comfort based on each passenger's personal preferences. Lexus enTune and Navigation track your favorite radio stations and stock reports, as well as changing traffic conditions, helping you to your destination on time and well-informed.
Keyes Lexus
The 2013 Lexus LS can be seen right now at your Keyes Lexus dealer located at 5905 Van Nuys Boulevard, Van Nuys, CA 91401. The 2013 Lexus LS 460 starts at $71,990 and, with the addition of the F-Sport package, starts at $81,990. Come in and speak with one of our knowledgeable sales associates, or you can contact Enamul Islam, Director of e-Commerce. Don't forget to ask about the PureCars Trade-In Report, which, for just fifteen minutes of your time, you can receive a minimum $25 Pre-Paid MasterCard.
Keyes Lexus is one of the original Lexus dealerships since 1989 and we are the largest in the Valley and one of the top dealerships in the entire nation. We have been serving clients around the valley and all over the country with unparalleled top notch Lexus services in Los Angeles, Santa Monica, and Van Nuys area. Keyes Lexus is an "Elite" of Lexus dealership. Our passion is providing you with a world-class ownership experience. We share the thrill our customers get from owning and driving a Lexus. For more information, please visit http://www.keyeslexus.com