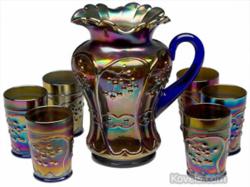 Cleveland, OH (PRWEB) November 15, 2012
Every month, the Kovels.com Top 10 list indicates the interests of collectors who visit the website. During October 2012, antique enthusiasts were busy researching:
1. Carnival Glass
2. Halloween
3. Mary Gregory
4. Jewelry
5. Occupied Japan
6. Russel Wright
7. Royal Copley
8. Bavaria
9. Coca-Cola
10. Stoves
There are four types of pottery on the Top 10 list, once again showing that pottery and porcelain is always a top collecting category. Four categories are new to the list—Carnival Glass, Halloween, Mary Gregory and Russel Wright.
Carnival glass tops the list, but why the leap to No. 1? There seems to be renewed interest in Carnival Glass—higher prices for rarities, more pieces sold at auction and three major collectors' clubs. Carnival glass is an iridescent pressed glass made from about 1907 until 1925. "Carnival Glass" is a nickname earned because the glass was given away as prizes at carnival games.
Halloween collectibles, at No. 2, are becoming more popular and more expensive. So many new types of Halloween-related items are being made—plastic and foam rubber pumpkins, collectible dolls, printed cards, and moving and talking figurines that use new technology. Russel Wright, No. 6, is surging in popularity and new reproductions of his designs are catching the eye of a new generation of collectors.
Jewelry is also on the list this month, at No. 4. Costume, Modernist, Indian and Mexican silver as well as copies of Edwardian and Victorian pieces are bargains when compared to the similar copies offered at department stores.
Collectors who search Kovels.com always want to know more—about descriptions, marks and prices. Kovels.com and "Kovels' Antiques and Collectibles Price Guide" lists thousands of current prices in hundreds of categories that are carefully selected and edited.
About Kovels.com
Kovels.com, the online portal for Kovels' Antiques, provides collectors and researchers with up-to-date and accurate information on antiques and collectibles. Kovels' Antiques was founded in 1953 by Terry Kovel and her late husband, Ralph. Since then, Kovels' Antiques has continually published some of America's most popular books and articles about antiques, including the best-selling "Kovels' Antiques and Collectibles Price Guide," now in its 45th edition. The Kovels' website, online since 1998, and free weekly email, "Kovels Komments," give readers a bird's-eye view of the market through up-to-date news, auction reports, an online Price Guide, a Marks Dictionary, readers' questions with Kovels' answers, and much more.
Contact info:
Liz Lillis
216.752.2252
pr(at)kovels(dot)com