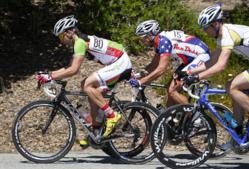 The Marc Pro™ became a staple for surviving the week, just as important as eating or drinking
Huntington Beach, CA (PRWEB) November 16, 2012
The Marc Pro™ device is a game-changer for a growing number of cyclists who use the muscle stimulating device to help with day-to-day recovery and prevent injuries, according to a recent product review in Road Bike Action Magazine.
In an recent article that appeared Road Bike Action Magazine, the authors liked the product so much they did a nine-month test to measure the benefits. It was after a big weekends of riding that they began to notice reduced soreness and feeling less lethargic in the evenings following the long rides.
"One of the testers rode all the stages of the Amgen Tour of California last May, and that's when he was sold on it," the review said. "The Marc Pro™ became a staple for surviving the week, just as important as eating or drinking."
The electrical stimulation of the Marc Pro™ causes muscles to contract, which dilates the blood vessels, allowing for increased blood flow and the delivery of nutrients and removal of waste. This results in reduced recovery time, according to the review. Similar positive reviews are found in a spectrum of peer-reviewed articles in publications nationwide.
The magazine review also credited the Marc Pro™ with helping Team RadioShack during the 2011 Tour de France. The team's physical therapist Jeff Spencer said the device boosted blood flow to riders' fatigued muscles, speeding up recovery and preventing race-ending injuries.
"The Marc Pro™ device is easy to use, it is best in its class, it delivers on its promises," Spencer said. "I'd never consider leaving home without it"
The technology isn't limited to Team RadioShack cyclists. In fact, the Marc Pro™ has been used for years in sports medicine and with players and trainers from more than 60 professional teams, including the Los Angeles Lakers, Miami Heat, Green Bay Packers, Indianapolis Colts and New York Yankees.
For more than three decades, the medical industry has been using muscle stimulators to aid in injury recovery, but the benefits for athletes has --- until recently --- been an insider's secret.
Catharina Berge, one of the world's best female ultra-cyclists, said her team used Marc Pro™ diligently during its record-breaking performance in the 2011 Race Across America.
"I really felt that it helped my muscles to recovery," she said. "I was amazed at how I got stronger every day of the race, and I attribute part of that to the Marc Pro™."