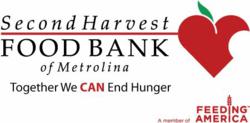 Charlotte, N.C. (PRWEB) November 15, 2012
2,000 Families-in-Need to Receive Complete Holiday Dinner Courtesy of Harris Teeter and Jon Beason.
Date:
Tuesday, Nov. 20, 2012
Time:
Noon – Press Conference
12:15 p.m. – Bag Assembly
Where:
Second Harvest Food Bank of Metrolina
500B Spratt Street
Charlotte, N.C. 28206
Interviews are available. Live shots are welcomed!
Tuesday, Nov. 20, 2012, Carolina Panthers middle linebacker Jon Beason will arrive at Second Harvest Food Bank of Metrolina to greet a Harris Teeter tractor trailer filled with essential products for a traditional holiday feast. Harris Teeter is donating enough food and fixins for Beason and Harris Teeter associates to assemble 2,000 Thanksgiving dinner bags to be donated to the food bank's partner agencies.
After the bag assembly, Beason and Harris Teeter associates will also make a stop at YMCA Stratford to personally distribute Thanksgiving dinner bags to children and their families who face the risk of going hungry.
"I am honored to play a role in this event and help the food bank fight hunger in the Charlotte community," said Beason. "It has always been important for me to give back to the community, and a few years ago, I got involved with Second Harvest Food Bank of Metrolina. The food bank, Harris Teeter and I have helped deliver Thanksgiving meals to children and their families for three years now, and it is wonderful to see the joy expressed by those children who receive the holiday meals. The food bank plays an integral role in the lives of thousands of children in this community; I am honored to do what I can to help to bring awareness to and promote this wonderful organization."
Each Thanksgiving bag will feed a family of four and will contain among other things a ham, stuffing, sweet potatoes, buttery mashed potatoes, corn, green beans, cranberry sauce, gravy and an apple pie. Second Harvest Food Bank of Metrolina will identify and distribute the 2,000 Thanksgiving bags to emergency pantries during the holiday season.
"On behalf of the over 460,000 people in our region living in poverty, Second Harvest would like to thank Harris Teeter, Jon Beason, Heineken USA and all of the participating food donors for providing a real Thanksgiving to so many families in need throughout our 19-county region," said Kay Carter, excutive director of Second Harvest Food Bank Metrolina. "We feel very blessed at Second Harvest to have this level of support and it means the world to the children, seniors and families we serve."
Harris Teeter would also like to thank its generous vendors who made this donation possible: Hormel, Heineken USA, Coca-Cola Consolidated, Idahoan Foods, McCormick, Kings Hawaiian, Bruce Foods, Green Giant, Del Monte, Ocean Spray, Jessie Lord Bakery and New York Packaging.
For more information about Harris Teeter's Harvest Feast, visit harristeeter.com.
About Harris Teeter
Harris Teeter Inc., with headquarters in Matthews, N.C., is a wholly-owned subsidiary of Harris Teeter Supermarkets, Inc. (NYSE: HTSI). Harris Teeter is the 24th largest supermarket in the U.S. with 2011 sales of $4.29 billion. The regional grocery chain employs approximately 25,000 associates and operates stores in North Carolina, South Carolina, Virginia, Georgia, Tennessee, Maryland, Delaware, Florida and the District of Columbia.
About Second Harvest Food Bank of Metrolina
As part of Feeding America, Second Harvest Food Bank of Metrolina – serves 19 counties in North and South Carolina. In FY2011-2012, Second Harvest Food Bank of Metrolina distributed over 38 million pounds of food and essential grocery items to over 600 hunger feeding agencies. Agencies served include emergency pantries, soup kitchens, senior programs, shelters and low-income daycares.