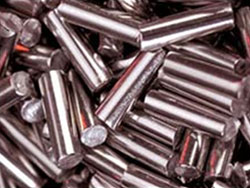 Dexter, MI (PRWEB) November 16, 2012
Protomatic has long been a leader in the prototype machining and CNC milling industry. Their custom short-run precision CNC milling and turning facility in Dexter, Michigan now offers even more services thanks to the addition of a state-of-the-art deburring machine called "The sPINner." This advanced machinery uses a circulating magnetic field and steel pins as media in order to deburr small details without altering the dimensions of a part. The precision of the new deburring machine is especially helpful for medical device machining.
What does this mean for current and future customers? It means that Protomatic can now offer even better product surface finishes. According to Vice President and General Manager, Doug Wetzel, "We are always looking for ways to bring higher product quality to our customers through relatively inexpensive processes. While the sPINner helps us to do that, we continue to investigate other processes."
The sPINner has a number of advanced features that make it an excellent addition to the Protomatic facility. The machine has a micro-deburring process that is ideal for medical applications. It works with small, precision parts that are normally difficult to deburr. The sPINner also works on a wide range of metals, including aluminum, brass, copper, stainless steel, and titanium.
For more information on Protomatic's services and the new sPINner, contact Protomatic today.