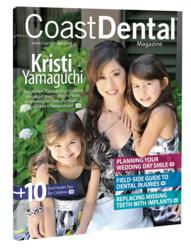 Once my braces came off, it was like - WOW! That looks so much nicer.
Tampa, FL (PRWEB) November 15, 2012
Coast Dental is proud to feature Olympic figure skating champion Kristi Yamaguchi on the cover of its Fall edition of Coast Dental Magazine. The gold medalist talks to Coast Dental in an exclusive interview about how she keeps her winning smile bright. The magazine is available for free in all 183 Coast Dental, SmileCare and Nevada Dental Associates offices in California, Florida, Georgia, Nevada and Texas.
The gold medalist is known all over the world for her beautiful smile. What many people don't know is that Kristi's dad, Jim Yamaguchi, is a dentist in the California Bay Area. He taught Kristi and her two siblings the importance of brushing, flossing and regular dental visits, and now treats Kristi's two young daughters.
Jim Yamaguchi also treats Kristi's husband, two-time-Olympian and retired pro-hockey player Bret Hedican of the Carolina Hurricanes.
"Obviously my husband's sport is notorious for having teeth knocked out, but he actually survived quite well," said Kristi. Bret did sustain a cracked wisdom tooth and a broken jaw, but has all of his front teeth. "He always wore a mouthguard when he played hockey," Kristi said.
The American Dental Association recommends athletes wear mouthguards for a wide range of sporting activities including basketball, boxing, field hockey, football, gymnastics, ice hockey, martial arts, rugby, skateboarding, snowboarding, soccer, and weightlifting. It recommends mouthguards even for activities you may not typically consider, such as acrobatics, discus throwing, handball, lacrosse, racquetball, and wrestling. Coast Dental and its associated SmileCare and Nevada Dental Associates offices offer FIERCE™ mouthguards in a variety of styles to help protect teeth while ensuring athletes can still communicate effectively.
In addition to highlighting the importance of mouthguards, Kristi is passionate about the power of braces to correct orthodontic problems and enhance smiles. As a teen, Kristi had oral surgery to remove four permanent teeth and then braces to fix her crooked and overlapping teeth.
"Once my braces came off, it was like – WOW! That looks so much nicer," she recalled. Her new, gorgeous smile was in full effect as she went on to win figure skating's highest honor at the 1992 Olympics in Albertville, France.
The international star is also passionate about helping more people smile. Her not-for-profit Always Dream Foundation helps underprivileged children and kids with disabilities. Earlier this year, the Foundation launched a pilot program in California schools aimed at improving early childhood literacy.
Be sure to pick up a copy of the Coast Dental Magazine to read the full story, plus learn how Coast Dental's own team members are on a mission to help others smile through their practices and philanthropies. To find a location, call 1-800-32-SMILE or visit http://www.CoastDental.com, http://www.SmileCare.com or http://www.NVDentalAssociates.com.
About Coast Dental
Coast Dental, P.A., with its professional associations, is one of the largest providers of general and specialty dental care in the United States with 183 affiliated practices operating as Coast Dental, SmileCare and Nevada Dental Associates in Florida, Georgia, California, Nevada and Texas. Coast Dental Services, Inc. is a privately-held practice management company that provides comprehensive, non-clinical business and administrative services to its affiliated practices. The company is headquartered in Tampa, Florida. For more information, visit http://www.CoastDental.com.