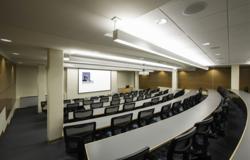 "Turner joined the Marymount University team during the project's design phase, and we discovered right away that a very successful collaboration was possible with this organization." - Ralph Kidder, VP of Financial Affairs at Marymount University
Washington, DC (PRWEB) November 15, 2012
Turner Construction is pleased to announce the completion of the Marymount University Rowley Hall renovation project. Rowley Hall is located on Marymount's main campus in Arlington, VA. The building serves as both an academic building and a student residence hall. The renovation modernized the building's MEP systems and technologies while consolidating many departments which were previously located in several different buildings. This was the first major renovation project that is part of a long-term campus master plan to replace or renovate nearly all university buildings.
Like many universities, Marymount embarked on a mission to revitalize its campus through design and technology renovations. The highly anticipated upgrade provides new classrooms, comfortable spaces for individual and group study, and fully accessible computer labs. Offices located in the renovated building include the Academic Success Center, Career Services, the Center for Global Education, the Center for Teaching and Learning, and the Learning Resource Center. In addition, the building houses a number of individual faculty offices. The Rowley Hall renovation also provided 5 classrooms and 3 studio spaces, 5 fully accessible computer labs, a student lounge, individual and group study spaces, and 8 new residence hall rooms.
Ralph Kidder, Vice President for Financial Affairs, states "Turner joined the Marymount University team during the project's design phase, and we discovered right away that a very successful collaboration was possible with this organization. The completion of this project has allowed the University to provide state-of-the-art living and learning spaces for our students as well as a new home for the faculty and staff of the School of Education and Human Services".
Turner utilized building information modeling (BIM) to overcome tight above ceiling clearances and to successfully achieve a very aggressive construction schedule.
About Turner Construction Company Mid-Atlantic
Turner has received accolades as a leading builder in the Mid-Atlantic region in diverse fields of higher education, K-12, healthcare, government, interiors, bio-tech, education, commercial, hospitality, telecommunications and multi-family residential facilities. Turner's focus on service and responsiveness to client needs has led to the company's consistent growth in the region over the past 30 years.
About Turner Construction Company
Turner is a North America-based, international construction services company. Founded in 1902 in New York City, Turner has 5,200 employees worldwide and works on 1200 projects each year, for an annual construction volume of $8 billion. As the largest general builder in the United States, Turner ranks first or second in the major market segments of the building construction field, including healthcare, education, sports, commercial, and green building. The firm is a subsidiary of HOCHTIEF, a publicly traded company, and one of the world's leading international construction service providers. For more information please visit http://www.turnerconstruction.com.
About HOCHTIEF
HOCHTIEF is one of the leading international providers of construction-related services. With more than 80,000 employees and a sales volume of EUR 23.28 billion in FY 2011, the company is represented in all the world's major markets. With its core competencies in development, building and operation, the Group delivers services for the entire life cycle of infrastructure projects, real estate and facilities. The focus of the related business activities is on four strategic areas: energy infrastructure, transportation infrastructure, major cities, and resources. With its subsidiary Leighton (HOCHTIEF share around 54 percent), the Group is market leader in Australia. In the USA, the biggest construction market in the world, HOCHTIEF is the No. 1 general builder via its subsidiary Turner and, with Group company Flatiron, ranks among the most important players in the field of transportation infrastructure construction. Because of its engagement for sustainability, HOCHTIEF has been listed in the Dow Jones Sustainability Indexes since 2006. Further information is available at http://www.hochtief.com/press.