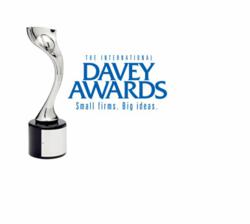 Our website is the first contact many prospects have with On Hold Company. It is a reflection of who we are.
Shreveport, La. (PRWEB) November 16, 2012
On Hold Company recently won a 2012 Silver Davey Award for the way it promotes its on-hold messaging for business on its website.
"Our website is the first contact many prospects have with On Hold Company," Bryant Wilson, CEO, said. "It is a reflection of who we are. We want it to showcase the creativity that permeates everything we do here, and we are thankful to the judges of the Davey Awards for recognizing our efforts in this way."
The Davey Awards is an international creative competition for small businesses. It is sanctioned and judged by the International Academy of the Visual Arts, an invitation-only organization of top-tier professionals from media, advertising, and marketing firms. In determining Gold and Silver winners, entries are judged on their merits based on a standard of excellence as determined by the IAVA, considering the category entered.
The 2012 Davey Awards received almost 4,000 entries from ad agencies, interactive agencies, production companies, in-house creative professionals, graphic designers, design firms and public relations houses.
"This year's winners truly represent a smart, nimble approach to creativity and embody the quick thinking, resourceful nature that make small agencies so unique" said Linda Day, Executive Director of the IAVA. "On behalf of the entire International Academy of Visual Arts, I want to thank this year's Davey Awards entrants and winners for sharing their amazing capabilities and talents, allowing us to once again highlight the best small firms worldwide."
The features at On Hold Company's website, http://www.onholdcompany.com, include an industry blog (http://www.onholdcompany.com/blog), an interactive call volume calculator, case studies and sample on-hold messages, and access to free reports on the benefits of on-hold marketing.
On Hold Company, based in Shreveport, La., has more than 13,000 clients across North America. In addition to on-hold marketing services, the company also provides digital signage solutions, telephone voice prompts and overhead music and messaging services.