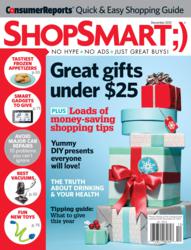 Yonkers, NY (PRWEB) November 15, 2012
The selection of toys can be overwhelming for shoppers deciding on the perfect gift─many have digital components and interactive features, but are they fun and easy to use? The December 2012 issue of ShopSmart, from Consumer Reports, highlights 12 cool toys with a tech twist for kids in different age ranges starting at age 3 and tells why they may make a great gift this holiday season.
Here are some examples, listed in order of age range:

VTech Cogsley Learning Robot, $40 (ages 3 to 6) is a sturdy little robot that movesm talks, sings and teaches. Children can tap this cute robot on the head to wake him up, then select a learning game to play. Cogsley responds to a twist of the ears, eyes and nose¬─and chips can be dropped into a slot above his nose to answer questions or learn new info. Two big pluses for parents: auto shutoff to conserve batteries when kids wander away, and volume control to preserve sanity.
Crayola Digital Light Designer, $60 (ages 6 and older) is a dark plastic dome¬─but when turned on is illuminated by a spinning array of LED lights. Kids can create colorful designs on the dome by using the included stylus (powered by two AAA batteries), save up to 50 of their favorites and animate their drawings or play one of the 50 games included. One drawback: the motor is pretty loud so keeping it on at night may disrupt sleep.
Mattel Loopz Shifter Game, $45 (ages 7 and older) is an ingenious electronic device with built-in memory and reflex games. Players pass their hands into the loops and follow increasingly complex patterns of lights and sounds and this updated version allows them to reconfigure the loops into different shapes. The games increase in difficulty and it takes practice and concentration to do well, but it is a lot of fun─especially with another player. Loopz Shifter remembers high scores and gives feedback and encouragement, and it will really get kids moving.
ShopSmart's full report on tech toys, also available online at http://www.consumerreports.org, features reviews of the Leapfrog LeapPad 2, $100 and the VTech InnoTab 2, $80. Also reviewed are Hasbro's Zapped editions of Monopoly, $30 and The Game of Life, $25: Played with an iPad and free Apple apps, Zapped games give a who new experience to classic board games.
B-ROLL AND IMAGES AVAILABLE UPON REQUEST.
About Consumer Reports:
Consumer Reports is the world's largest independent product-testing organization. Using its more than 50 labs, auto test center, and survey research center, the nonprofit rates thousands of products and services annually. Founded in 1936, Consumer Reports has over 8 million subscribers to its magazine, website, and other publications. Its advocacy division, Consumers Union, works for health reform, food and product safety, financial reform, and other consumer issues in Washington, D.C., the states, and in the marketplace.
About ShopSmart magazine:
Launched in Fall 2006 by Consumer Reports, ShopSmart draws upon the publication's celebrated tradition of accepting no advertisements and providing unbiased product reviews. ShopSmart features product reviews, shopping tips on how to get the most out of products and "best of the best" lists. It's ideal for busy shoppers who place a premium on time. ShopSmart has a newsstand price of $4.99 and is available nationwide at major retailers including Barnes & Noble, Wal-Mart, Borders, Kroger, Safeway and Publix. ShopSmart is available by subscription at http://www.ShopSmartmag.org.
ShopSmart is available 10 times a year. Subscribe at http://www.ShopSmartmag.org.
# # #