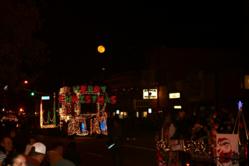 As the Christmas season approaches, Yosemite area communities are gearing up for the Holiday with a myriad of events.
(PRWEB) November 14, 2012
As the Christmas season approaches, Yosemite area communities are gearing up for the Holiday with a myriad of events.
Bass Lake is the first to get things started this year as the annual Bass Lake Tree Lighting Ceremony is set for November 24. The celebration begins at sun down, as dozens of decorated floats take part in a parade through The Pines Village. At the end, Santa Claus arrives aboard a fire engine to throw the master switching lighting the massive Christmas Tree that stands over the village. Afterwards he sits down for photos with kids. For more information, call 559-642-3121.
A signature event for the city of Madera follows on November 29. The annual Madera Tractor Parade of Lights will make its way down Yosemite Avenue starting at 8 pm. The procession is made up of tractors, combines and just about any other farm implement as well as many other vehicles all brilliantly lit in twinkling Christmas Lights.
Coinciding with the parade is the annual Christmas Wine Stroll that runs from 5-8 pm. Guests can explore the many shops and businesses along Madera's Yosemite Avenue and enjoy wines from local wineries or hot cider. Call the Madera Chamber of Commerce at 559-673-3563 for more information on either event.
Both Chowchilla and Oakhurst will be lighting their community Christmas trees on Saturday, December 1. The Chowchilla Lion's Club 45th Annual Christmas Tree Lighting takes place at 5:30 at the corner lot near Ride Aid on Robertson Boulevard. The event, co-sponsored by the Chowchilla Parks, Recreation and Community Services Department, will also include a visit from Santa Claus. Call 559-665-8615 x110 for more information.
Oakhurst's celebration starts at 5 pm and is located at the Ditton's Talking Bear Corner, at the intersection of Highway 41 and Road 426. There will be hot coffee and cider, hot dogs, Christmas Caroling and a chance to chat with Santa and Mrs. Claus. The event is sponsored by Sierra Tel and Century 21 Ditton Realty. For more information, call 559-642-0313.
Also on December 1 is the Madera Ranchos Holiday Gift Fair. Numerous vendors will be on hand with perfect gift ideas for the hard-to-shop-for person on every list. The fair runs from 8 am to 3 pm and is located at the Golden Valley Baptist Church at 12414 Rd. 37. Call 559-645-4016 for more information,
Mountain area residents looking to do some Christmas shopping can attend the annual North Fork Christmas Bazar also taking place December 1. More than 45 vendors will be selling crafts, food and more, each making the perfect gift. The bazar takes place at the North Fork Town Hall. Call the North Fork Chamber for more information at 559-877-4554.
There are numerous other Holiday events planned throughout California's gateway to Yosemite as well including special museum exhibits, dinners and more. For a full list of events, visit http://www.YosemiteThisYear.com/events.
-END-