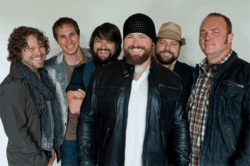 Denver, CO (PRWEB) November 16, 2012
What makes this homegrown Atlanta-based country/folk band so gall darn hot? Why do they always seem to play to packed houses? And, how on earth have they earned more than 50 Grammy, ACM, AMA, CMA, and CMT award nominations since 2009?
Perhaps it's their four studio albums and eight Number One singles on the Billboard country charts, such as "Chicken Fried, "Toes, "Highway 20 Ride, and "Free". Or maybe it's their recent album, Uncaged, released in July. Not only was the effort well received by fans, Billboard named it the best country album of 2012.
"The Zac Brown Band always puts on quite a performance, with their folksy tunes and musically rich instrumentations," said Felina Martinez at online ticket marketplace BuyAnySeat.com. "Their audience has grown significantly over the years, so it's no surprise that we're seeing a huge jump in online traffic for Zac Brown Band tickets. The band's upcoming U.S. dates are starting to sell out quickly."
"That's why we're proud to be able to offer fans a complete selection of discount Zac Brown Band tickets, with a worry-free guarantee to protect their purchase," said Martinez.
"In fact, we still have a great selection of inexpensive Zac Brown Band tickets now available on our site," said Martinez. "To access the complete selection of discount Zac Brown Band tickets we now have available, customers can go to BuyAnySeat.com and search for the Zac Brown Band – then select their tickets," said Martinez.
Tickets to see the band are currently available for 13 dates around the country through next August. They play the Carrier Dome in Syracuse, New York on Friday November 16th and Madison Square Garden on Saturday November 17th. The following Sunday night, they perform at the Izod Center in New Jersey with Blackberry Smoke and Levi Lowrey.
The group then plays in Birmingham, Cincinnati, and Detroit at the end of December 2012. In 2013, stops in Louisville, Fort Wayne, Peoria, and Greensboro are planned in January. The band then picks up with Kenny Chesney, the Eli Young Band and Kacey Musgrave for performances in Columbia in May, Minneapolis in July and back home in Atlanta on August 3, 2013.
In terms of the band's numerous award nominations, they received four nominations at the 2009 CMA: New Artist of the Year, Song of the Year, Single of the Year, and Music Video of the Year for their Number One single, "Chicken Fried". That same year, they received three Grammy nominations for Best Country Album, Best Country Performance By a Duo or Group With Vocals and Best New Artist. And, they were nominated for three ACM awards, Album of the Year, Top Vocal Group, and Entertainer of the Year. More nominations continued, and the band won the Grammy for Best New Artist in 2010.
Last year, among other accolades, they led all ACM nominees with a total of nine nominations, including: Top Vocal Group of the Year, Album of the Year, Single Record of the Year, Song of the Year, Vocal Event of the Year. And of course, this year, Billboard named their latest album, Uncaged, the best country album of 2012.
To shop for cheap Zac Brown Band tickets, visit BuyAnySeat.com.
About BuyAnySeat.com: An online ticket marketplace, BuyAnySeat.com connects sports, theater and other live entertainment fans to an extensive worldwide network of ticket sellers. The site's simplified listings and navigational tools enable fans to easily locate, compare and purchase inexpensive, discounted or lower-priced tickets to virtually all advertised sports and entertainment events around the globe. The site, which is PCI-compliant and Norton Secured, also provides customers with a complete Worry-Free Guarantee on all ticket purchases. Based in Denver, Colorado, BuyAnySeat.com is a subsidiary of Denver Media Holdings. For more information, please visit http://buyanyseat.com.