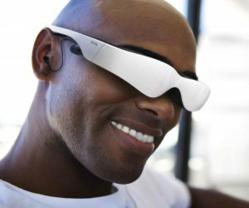 affordable luxuries are something that never go out of style
Boston, MA (PRWEB) November 16, 2012
Unique and eclectic gift site Shot Hot Coffee Out of Nose today announced it's list of the Top 10 Gadgets for 2012. At the top of this year's list was the OLED Cinemizer, a sunglasses-style personal video viewer compatible with the iPhone or iPad. These glasses provide a virtual 60 inch screen that allows the viewer to watch movies and videos directly from their devices in complete privacy.
Other Apple-compatible gifts were also on this year's list including the Peel remote control device which allows you to gather television programming information and control your tv directly through your iPhone.
"It's no surprise that this year's list of best gadgets included a couple of hot products that are accessories for the iPhone" said Chet Richfiled, editor of Shot Hot Coffee Out of Nose.
Also making this year's list was the RockIt Miracle speakers, a device that uses vibrations to turn anything including a glass of water or a chair into a high quality wireless audio speaker. For the survivalist, this year's list included a Time Magazine Innovation Award winner, the Lifestraw, a gadget that allows emergency water filtration by filtering 99.99% of all bacteria from water as you drink it directly from ponds or streams.
"Even under the pressures of a struggling economy we still find that people will splurge on the latest gadgets and gizmos" added Richfield. "Affordable luxuries are something that never go out of style and never seem to lose their retail magic."
Perhaps the most nostalgic gadget on this year's list is the Polaroid digital-instant camera, a pocket-sized camera that captures digital images and can immediately crop and print the best ones.
And for all the people who can't resist a great gag, this year's list includes the Ninja Stealth Television Remote Control device. This incredible keychain-sized device can be pointed at any television and within seconds it will program itself to take full control of that TV. This is perfect for someone who may want to change the channel or adjust the volume on any television at any bar or restaurant. The manufacturer even boasts that it can be used on a neighbor's television.
1. Carl Zeiss Cinemizer OLED Video Glasses
2. Polaroid Digital-Instant Camera
3. RockIt Miracle Speakers
4. Peel Smartphone Television Remote Control
5. Lifestraw Emergency Drinking Water Device
6. Pepper Spray Smartphone Case
7. Razorpit Razor Blade Sharpener
8. Laser String Air Guitar
9. Ninja Stealth Television Remote Controler
10. Remee Mind Control Dreaming Mask
As the holiday season approaches there are many choices for great gifts this year. Shot Hot Coffee Out Of Nose are purveyors of unique gifts and fun gifts. You can visit their website at http://www.shcoon.com