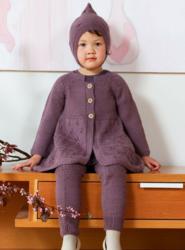 Gibsons, BC (PRWEB) November 16, 2012
Jessica Alba's daughter Honor was recently photographed wearing a hand-knitted outfit from Miou, a fair-trade kids' knitwear company based in Gibsons, BC. Alba and her husband, Cash Warren, were out shopping with Honor, who was wearing the Mademoiselle sweater and bonnet from Miou's fall line.
The photos were made available by Fern/Splash News and you can see them here: http://www.dailymail.co.uk/tvshowbiz/article-2231314/Spread-wings-Jessica-Alba-takes-Honor-face-painted-beautiful-butterfly-design.html
Miou owner Christine Dubin says she's thrilled to have such an eco-conscious celebrity supporting her brand.
"It was a wonderful surprise to see the pictures," Dubin says. "I've been a fan of Jessica Alba's every since she launched the Honest Company and started selling environmentally friendly baby products. It truly is an honour to see her choosing to dress her daughter in Miou knitwear."
ABOUT MIOU:
Miou was launched in August by Gibsons, BC, designer Christine Dubin, who is originally from France. Hand-knit from 100% baby alpaca wool, Miou's sweaters, leggings, booties, hats and blankets are made by skilled workers in Peru. The workers, who are all mothers, receive a fair wage that enables them to clothe and feed their children. In addition, 5% of the profits from the brand are donated to their children's education.
Since launching, Miou has been rapidly gaining interest and their kids' knitwear can be found in upscale children's boutiques across Canada. Visit http://www.mioukids.com to see Miou knitwear for yourself.