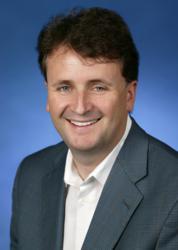 It's one of the best technologies we've ever installed in a restaurant.
Dallas, TX (PRWEB) November 14, 2012
Ziosk announces signing a multi-year contract with Lehigh Valley Restaurant Group (LVRG) to deploy Ziosk to all of their Red Robin locations throughout Pennsylvania.
With the primary purpose of enhancing the guest experience, assisting servers and providing pay on demand, the Ziosk 7" touchscreen sits on the tables of casual dining restaurants, giving guests the ability to view menu items and specials, order items, play games, watch videos and movie trailers, engage with social media, give real time feedback and pay the check right at the table. Restaurants with Ziosk see higher guest satisfaction, driving frequency and increased sales.
"The 'pay at the table' feature is very important to us and we believe it will be a real differentiator for our restaurants," said James Ryan, CEO of LVRG. Chris DeFrain, CFO, added "We had planned to test other pay at the table solutions, but after our experience with the Ziosk, its management team and flawless execution of POS integration, training and technical support, we decided to move forward with their company and the Ziosk solution prior to the end of the test period. It's one of the best technologies we've ever installed in a restaurant."
"The results were phenomenal. In the 60 day test, we observed a sizeable increase in server tips, e-club enrollments skyrocketed and guests loved the convenience of being able to pay their check at the table," added Mike Axiotis, Vice President of Operations.
Ziosk is excited about deploying our technology in a great brand like Red Robin. "We have enjoyed a great working relationship with LVRG and are excited about our partnership moving forward. Adding another brand of Red Robin's caliber to our list of clients continues to solidify our standing as the industry leader in pay at the table technology," said Austen Mulinder, CEO of Ziosk.
LVRG, headquartered in Allentown, PA, operates 19 Red Robin locations in the Lehigh Valley, Scranton/Wilkes-Barre, Philadelphia and Harrisburg regions of Pennsylvania. Key locations will be implemented prior to the holidays with all remaining completed at the beginning of 2013.
Today, Ziosk is deployed in hundreds of restaurant locations across the United States and working with leading restaurant concepts in addition to Red Robin such as Applebee's, Chili's, UNO Chicago Grill, Genghis Grill and Bennigan's. The current footprint has Ziosk serving over 4 million people per month and growing rapidly.
ABOUT ZIOSK
Based in Dallas, TX, Ziosk is the first entertainment, ordering and pay-at-the-table tablet touchscreen for the casual dining restaurant market. The technology, featuring a 7-inch touchscreen and credit card reader, resides on each table and enables the guests to see menu items, play games, view news, order food and beverages and 'pay on demand;' all which gives guests control over their dining experience. With its interactive capabilities, Ziosk and its footprint have created the Ziosk Media Network, a digital media platform for partners to create engaging experiences at the point of purchase. Ziosk is revolutionizing the experience and economics of casual dining. For more information, please visit http://www.ziosk.com.
ABOUT LEHIGH VALLEY RESTAURANT GROUP
Lehigh Valley Restaurant Group, Inc. (LVRG; http://www.redrobinpa.com ) is a Red Robin franchisee covering the Lehigh Valley, Scranton/Wilkes-Barre, Philadelphia and Harrisburg regions. LVRG was formed in 1991 by founder and former President, Stephen J. Hanzlik, and a group of his friends. They opened their first Red Robin restaurant in 1993 at Tilghman Square in Allentown, PA. During 19 years of operation, LVRG has provided employment, memorable guest experiences and great food to thousands of people.