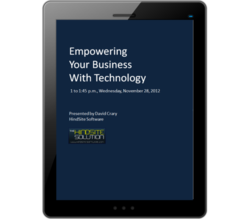 In this webinar, I'll show business owners how to analyze their data flow and leverage field service software to grow their business.
St. Paul, MN (PRWEB) November 16, 2012
Many field service businesses waste a lot of time – and money – because they fail to successfully use the power of technology to improve their business. Even when they use technology, they fail to use it to its fullest.
For example, many landscape management businesses use GPS devices. However, they don't have a fully integrated system, and service technicians or crew leaders must type in addresses on their GPS device. Typing in each address can waste 45 seconds to a minute every time they need to go to a new location, which can be as many as 5 to 10 times per day. Add it all up, and over the course of a typical year, landscape management businesses may waste days typing in addresses on their GPS device.
In his free webinar, Empowering Your Business with Technology, David Crary will discuss how field service businesses – especially those in the Green Industry (snow plowing businesses, irrigation businesses, landscape management businesses, etc.) – can leverage the power of landscaping business software to save time, save money and improve their businesses.
"Data flow is not the most exciting topic, " explains HindSite Software president and founder David Crary. "But understanding how your data flows within your business is the key to using technology effectively and empowering your business. In this webinar, I'll show business owners how to analyze their data flow and leverage field service software to grow their business."
Smart businesses understand how their data flow works. Take UPS. Their tracking system is a technological marvel that most people take for granted. But not UPS. The solution was built – with a price tag in the billions of dollars – to help them deliver packages consistently, accurately and on time. And ultimately, that investment was returned many times over, helping UPS grow and expand their business.
The UPS system is the best example of a consistent, accurate, timely and well-implemented system.
In Empowering Your Business with Technology, we'll explore how field service businesses can deliver accurate and timely information to the office and field workers by reviewing their data flow and implementing technology to eliminate redundant tasks.
"I ran an irrigation business for 22 years," says Crary. "I was losing money – and wasting time – at every turn, until I installed irrigation software. Then, I was able to do more with a lot less. I saved time. I saved money. Technology empowered me to work on my business, not in it."
To register for the webinar, scheduled from 1 to 1:45 p.m. Central Time on Wednesday, November 28, visit https://www4.gotomeeting.com/register/976597415. To learn more about HindSite Software, visit http://www.hindsitesoftware.com.
About HindSite Software
HindSite Software has helped contractors better manage and grow their business with service management software since 2001. Designed by an irrigation contractor, HindSite assists service businesses with scheduling (e.g dispatch software), contact management, field data collection, and invoicing in QuickBooks®, Sage Peachtree®, and Simply Accounting®. This paperless work order management software has been proven to increase efficiency and organization, meaning greater profit potential with less administrative time.