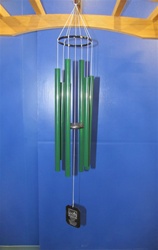 Wind chimes are perfect to give as a business gift. They're unisex, they can be personalized, and they are affordable.
Seattle, Washington (PRWEB) November 19, 2012
Eco Wind Chimes is taking orders for holiday gifts. Business owners can order one or hundreds of personalized wind chimes, with their company logo or slogan, and receive them in time for Christmas. Eco Wind Chimes' products are American made and come with a solid satisfaction guarantee.
"Our wind chimes start at $30 dollars but we can work on the pricing for bulk business orders," said Stephen Betzen, Co-Owner. "Wind chimes are perfect to give as a business gift. They're unisex, they can be personalized, and they are affordable. Company decision makers still have time to place their gift orders with Eco Wind Chimes."
Eco Wind Chimes has a variety of wind chimes that showcase different styles, lengths, musical tones, and more. "Corporate gifts can even be tiered. Our petite wind chimes may go to support staff and our larger, more elaborate wind chimes are ideal for company CEO's. Our customer service agents are available to speak with companies looking to coordinate their holiday gifts- including branding," continued Betzen. To start the ordering process click here: http://www.ecowindchimes.com
About: Eco Wind Chimes was launched in 2005. The soothing products produced by Eco Wind Chimes match the company's dedication to quality workmanship, affordability, and purposeful retail. All Eco Wind Chime products are made, and sourced, in the USA. More information, and a media kit, can be found by clicking here: http://www.ecowindchimes.com