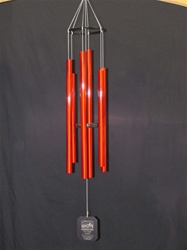 Grandparents will LOVE our wind chimes as holiday gifts.
(PRWEB) November 21, 2012
Eco Wind Chimes is now selling wind chimes as unique holiday gifts . The wind chimes start at $30 dollars and make the perfect gift for grandparents or great grandparents. Each set of wind chimes are American made and sourced, the products are quality made and last long. In addition, the wind chimes are available in a wide variety of sizes and styles. Samples of the wind chimes (and their tones) can be heard by clicking here: http://www.ecowindchimes.com.
"Grandparents will LOVE our wind chimes as holiday gifts. Every time a grandparent hears the chime he or she can be reminded of their grandchildren. It makes for a special experience that lasts well after the holiday season has passed," said Stephen Betzen, Co-owner. "People say grandparents can be hard to buy for. Not true. Our wind chimes are a mouse click away and I guarantee they will be a success!"
Online ordering for the holiday season is in full swing on Eco Wind Chimes' website. "The longer someone waits to order their grandparent(s) the wind chimes as a gift, the longer it will take for the gift to process and arrive. We already are receiving Christmas gift orders. I suggest anyone considering buying our wind chimes to start reviewing the products now," continued Betzen.
About: Eco Wind Chimes was launched in 2005. The soothing products produced by Eco Wind Chimes match the company's dedication to quality workmanship, affordability, and purposeful retail. All Eco Wind Chime products are made, and sourced, in the USA. More information, and a media kit, can be found by clicking here: http://www.ecowindchimes.com