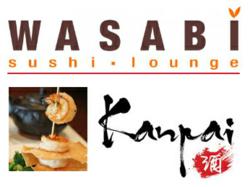 We have a lot of specials to show our customers that we truly do appreciate them.
(PRWEB) November 16, 2012
Wasabi Sushi Lounge, 15455 W. Bluemound Road, in Brookfield, and new sister restaurant, Kanpai Izakaya, 408 E. Chicago St., a Japanese Restaurant in the Third Ward, are the perfect place to grab a bite to eat over the holidays.
Brian Park, owner of the Japanese restaurants, is offering a holiday gift card special running now through Dec. 31. For each $100 gift certificate purchased, customers receive a $20 gift card. The holiday gift card promotion is offered at both sushi restaurants. Gift cards for each Japanese restaurant are not available for purchase online.
Thanksgiving Drink Specials
Belly up to the bar during Thanksgiving. With Thanksgiving week specials going on at both locations, there is no reason not to relax with a tasty cocktail.
Thanksgiving week drink specials available Nov. 19 -21 include sake bombs and Oyster shooters for $3.
New Years Eve Celebration
Start off the New Year with sushi, champagne and a saketini at Wasabi Sushi Lounge and Kanpai Izakaya's New Years Eve celebrations. Kanpai also offers a VIP traditional Japanese tatami room for parties of up to 16. Reservations are highly recommended for New Years Eve celebration and to secure tatami room.
"We have a lot of specials to show our customers that we truly do appreciate them. What I am most excited about though is our all you can eat sushi specials for $29," says Brian Park. "It is really an amazing deal and unique to the sushi restaurants in the area. People love it!"
As a tradition, Park offers customer appreciation days throughout the holiday season which feature his All-You-Can-Eat Sushi Buffet for $29. The buffet is available at both restaurants November 21 (3-9PM) and Christmas Eve, December 24 (3-9PM). Kids under 12 years old can enjoy the buffet for $1 for every year of their age.
Reservations highly recommended for the All-You-Can-Eat Sushi Buffet. Reservations can be made at http://www.wasabisakelounge.com or http://www.kanpaimilwaukee.com via Opentable.
Both locations also offer holiday catering and party platters in small, medium and large sizes.
For more information on Wasabi Sushi Lounge and Kanpai Izakaya's holiday specials, call Wasabi Sushi Lounge at (262) 780-0011 or Kanpai Izakaya at 414-220-1155.
About Wasabi Sushi Lounge
Experience the fusion of Wasabi where sushi meets lounge, where east meets west and style melds with perfect simplicity. Wasabi Sushi & Sake Lounge offers a sensual feast and an immersion in culinary artistry whether you're already a sushi aficionado or are new to Japanese cuisine. Wasabi's fine dining isn't limited to sushi; their kitchen offers a full range of chicken, steak and seafood entrees and simply amazing salads. Wasabi's signature fusion style draws together tastes and ingredients from many Asian cuisines.
About Kanpai Izakaya
Kanpai Izakaya is Milwaukee's newest Asian Fusion restaurant features an inviting environment and impeccable customer service. Kanpai brings Japanese cuisine and sushi to succulent levels not found anywhere else in Milwaukee. From Sushi Specialty Rolls to Chilean Sea Bass, there is no other place to try the best sushi Milwaukee has to offer.