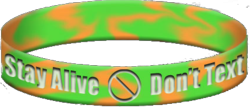 giving away their symbolic green and orange wristbands to the next 10,000 people...
BOSSIER CITY, LOUISIANA (PRWEB) November 15, 2012
PDDA.org, also known as The Prevent Distracted Driving Association, is on a mission. They are giving away their symbolic green and orange wristbands to the next 10,000 people who come to their website and take the pledge to stop texting while driving.
They would like to help educate and increase awareness of the dangers of texting and driving. Individuals of all ages, and organizations, can help support this worthy cause by pledging not to text and drive. Everyone that signs a Pledge will receive the special green symbolic wristbands, declaring "Stay Alive....Don't Text and Drive".
Everybody has seen the news reports about tragic auto accidents as the result of texting and driving. Students have shown tremendous support for this movement against Distracted Driving. At a recent PDDA.org event, 560 students signed-up and took the pledge not to text and drive. The organization would like to spread the message to young folks throughout the entire world.
A goal has been set to get one million people to pledge in the next 12-months. Many of the teen drivers do not fully understand the life changing devastation that can, and does occur as a result of texting and driving. The unfortunate fact is that every 2.6 minutes a Teen is Injured, and every 7 hours, a Teen is Killed by Texting and Driving. It is time for local communities throughout this country to get involved at the grassroots level. Awareness and publicity of the problem will help to curb its practice.
Volunteers are sought, and Donations are appreciated. Not many people realize that at 55 mph it takes five seconds to cover an average football field, and 4.7 seconds is the average time a person takes his/her eyes off the road to make a text.
A texting driver is 23 times more likely to get into an accident compared to a non-texting driver. For every parent of a teen, it's time to realize what is at stake. They shouldn't worry about what the kids will think, saving their lives is what this is all about.
There was a recent study done by the University of Utah that concluded that texting or making a call while driving affects a driver's reaction time in much the same way as if they had been drinking. Interestingly, it didn't matter if it was a handheld device or a hands-free device. Research done by Carnegie Mellon University showed that a person loses 37% of their mental function required for safe driving when using a cell phone. This subject is clearly a case of life or death.
Everybody can get involved with PDDA.org. This cause has skyrocketed in awareness in a short period of time. The more people that get involved, the more lives that can be saved. It is all about spreading the word. Stop by the website or the Facebook page, and become part of this fantastic cause.
To get involved in via Facebook please visit http://www.Facebook.com/StopTextsStopWrecks