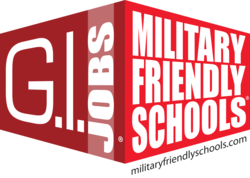 At Northcentral, we take tremendous pride in our unique ability to meet the educational goals of active duty military members, retirees, reservists, and their dependents
Prescott Valley, Arizona (PRWEB) November 14, 2012
Northcentral University, a global leader in online education, has been awarded the designation of Military Friendly School for the fourth straight year by Victory Media, the premier media entity for military personnel transitioning into civilian life. The 2013 Military Friendly Schools® list honors the top 15 percent of colleges, universities and trade schools in the country that are doing the most to embrace America's military service members, veterans, and spouses as students and ensure their success on campus.
Now in its fourth year, the 2013 list of Military Friendly Schools® was compiled through extensive research and a data-driven survey of more than 12,000 VA-approved schools nationwide. The survey results that comprise the 2013 list were independently tested by Ernst & Young LLP based upon the weightings and methodology established by G.I. Jobs. Each year schools taking the survey are held to a higher standard than the previous year via improved methodology, criteria and weightings developed with the assistance of an Academic Advisory Board (AAB) consisting of educators from schools across the country. A full list of board members can be found at http://militaryfriendlyschools.com/board.
"Inclusion on the 2013 list of Military Friendly Schools® shows Northcentral University's commitment to providing a supportive environment for military students," said Sean Collins, Director for G.I. Jobs and Vice President at Victory Media. "As interest in education grows we're thrilled to provide the military community with transparent, world-class resources to assist in their search for schools," said Collins. Complete survey methodology is available at http://www.militaryfriendlyschools.com/methodology.
"At Northcentral, we take tremendous pride in our unique ability to meet the educational goals of active duty military members, retirees, reservists, and their dependents," notes University Provost and Chief Academic Officer, Scott W.M. Burrus, PhD.
As a sign of its continued commitment to supporting the success of its students in the military, Northcentral recently announced that tuition rates for 2013 will remain the same for military students. Northcentral also announced that, effective October 1, 2012, Preferred Tuition Rates for Military Students with Military Tuition Assistance (TA) was reduced in its Master's Degree Programs. Northcentral's previous tuition per 3 credit course of $910 was reduced to $750. The master's program tuition per 3 credit course, like all Northcentral tuition, is inclusive of all fees and other instructional costs, with the exception of books.
ABOUT Victory Media Inc.
Victory Media is a service-disabled, veteran-owned small business founded in 2001. Victory's free, data-driven, Military Friendly ® lists can be found at http://www.gijobs.com/2012Top100 http://www.militaryfriendlyschools.com and http://www.militaryfranchising.com. Victory's lists are also published in G.I. Jobs, Military Spouse, Vetrepreneur magazines, republished in national and local periodicals and are frequently cited on national and local TV stations.
About Northcentral University
Founded in 1996, and located in Prescott Valley, Arizona, Northcentral University is an accredited, private, online university serving adult students around the world. Northcentral's weekly course starts—with no physical residency requirements—are designed to meet the needs of working professionals seeking an accessible opportunity to earn a U.S. regionally accredited degree. Degree programs are customized to each student's interests, and faculty and advisors provide One-to-One guidance to ensure academic success.
Northcentral University offers 43 unique specializations at the doctoral, master's and bachelor's degree levels in the schools of Business and Technology Management, Education, and Behavioral and Health Sciences. About 95 percent of NCU's current students are enrolled in doctoral or master's programs.
For more information, visit http://www.ncu.edu or call 1-888-628-2078.
Northcentral University is regionally accredited by the Higher Learning Commission (HLC) and is a member of the North Central Association of Colleges and Schools (NCA) (230 South LaSalle Street, Suite 7-500, Chicago, IL 60604, 1.800.621.7440, http://www.ncahlc.org).
The Accreditation Council for Business Schools and Programs (ACBSP) supervises the accreditation of Northcentral's School of Business and Technology Management.
Northcentral University strives to enable students to make informed choices about their academic program selection by making disclosures to prospective students in a clear, timely, and meaningful way. Visit http://www.ncu.edu/GE for more information.
Active programs and specializations may vary. Please contact NCU for current program and specialization offerings.