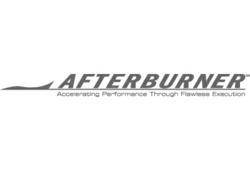 Atlanta, GA (PRWEB) November 16, 2012
The Atlanta-based management training firm, Afterburner, facilitated a high-energy symposium on its nationally acclaimed Flawless Execution® model to a group of 33 from the Fox Cable Network. Part of a multiple-day training event, the firm's program provided attendees with the skills needed to operate efficiently in a field that demands flexibility and near-constant evolution. When applied to everyday processes, the model will help organizations to identify potential and recurring errors, as well as opportunities.
The keynote was delivered by highly skilled former Blue Angel pilot, Scott "Intake" Kartvedt. The fighter pilot helped the executives discover the ways in which the Flawless Execution® model can be applied to the media industry by relating his experience in hostile enemy territory to the ruthless media industry, and the framework strategy needed to survive in both. The model's continuous improvement process of Plan.Brief.Execute.Debriefsm is a comprehensive cycle that allows for seamless operations that is necessary to achieve ideal results.
Fox Cable Network is one of the largest media entities in the US, with successful subsidiaries that include Fox News Channel, FX, and the National Geographic Channel. Part of the media faction of News Corporation, Fox Cable Networks is one of the fastest growing sections of the corporation and ranks in the top five networks in the country. The brand has seen an increase in viewership in recent years, furthering the company's success in a time when few corporations are seeing growth.
The Flawless Execution® model was created by former U.S. Air Force fighter pilot Jim "Murph" Murphy and reflects principles used by military professionals in hostile environments. A zero-tolerance-for-error approach and a holistic, four-part strategic framework address the instabilities of an ever-changing business environment, and equip team members with the tools needed to perform at optimum levels.
To learn more about Afterburner's innovative approach to professional development and strategy, visit http://www.afterburnerseminars.com or call (404)-835-3500.
About Afterburner®
Afterburner, Inc., founded in 1996 by U.S. Air Force fighter pilot Jim "Murph" Murphy, trains organizations around the world in the simple, scalable improvement processes of Flawless Execution, which encompasses the Three E's-Empower, Equip, and EmbedSM. With a client list that includes over 30% of the U.S. Fortune 500, Afterburner is among Inc. Magazine's "Inc. 500 List of America's Fastest Growing Companies" and has been featured in the Wall Street Journal, Business Week, Financial Times, Newsweek, and Meetings and Conventions Magazine. Afterburner has also appeared on CNN, CNBC, Fox News, and Bloomberg News. For information on Afterburner's Flawless Execution model, please visit http://www.AfterburnerConsulting.com.