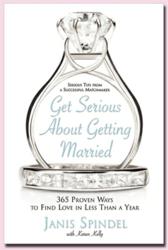 I just recorded my 996th marriage to one of the nations high rollers who is also a celeb
New York, NY (PRWEB) November 16, 2012
By popular demand, Janis Spindel Serious Matchmaking Inc. re-launches the highly successful intimate mini match dinners beginning December 4, 2012.
"In 2002, my bi-monthly intimate mini match dinners proved to be an incredible success, after I realized that I got 14 couples in long lasting relationships that resulted in marriages! I now have my senior online matchmaker Ashley Kaylor lining up groups of potential matches and organizing them by age, looks, religion, interests and regions across the country," professes Janis.
Spindel has recorded 996 marriages to the nations high rollers and celebs. She is now on a mission to reach 1,000 marriages before the end of the year.
"I just got a call from Mr. Chicago, I thought he was going to be my 997th, but it turns out they broke up and he is now back on my radar screen. Being the eternal optimist that I am, we just booked a room at one of my NYC event locations for Valentines Day 2013, bought a new celebration gown and my husband is shopping for a new tuxedo. I even reserved my number 1 baby sitter for that night as I know it will be a great celebration to hit 1,000 couples married."
A company spokesman said the odds are in Janis' favor she will reach her goal. "We have recently invested company funds to beef up our proprietary matching software that will allow Janis and Ashley to sit down at the computer, search matches and generate groups of men and women to invite that have the highest possibility to connect. We will combine the human element of matchmakers with technology to do most of the work."
###