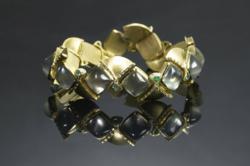 With our world-class artists and fantastic entertainment, we anticipate this year's show will be the best yet. --Tailinh Agoyo, Director of Marketing & Public Relations for SWAIA
Santa Fe, New Mexico (PRWEB) November 15, 2012
The Southwestern Association of Indian Artists (SWAIA) announces its 7th Annual Winter Indian Market, to be held Thanksgiving weekend, November 24-25th at the Santa Fe Community Convention Center in Santa Fe, New Mexico. SWAIA is also highlighting two outstanding artists showing this year, Colin Coonsis and Robin Waynee.
Coonsis, a Zuni artist, will be unveiling a line of jewelry he designed with Dina Eastwood, wife of actor Clint Eastwood. Eastwood approached Coonsis last year and came up with the name "CoCoon" for the original, one of a kind pieces she has been wearing on the red carpet to promote her reality TV show, "Mrs. Eastwood and Company." The line is inspired by seashell textures and the elegant nature of shells and found objects on the beach.
Robin Waynee, a Saginaw Chippewa artist, has won the prestigious international Saul Bell Jewelry Award for 3 years running. She received 1st place in 2010 and 2011 and grand prize in 2012. Her stunning pieces are sophisticated and detailed, using materials such as 18k gold, platinum, diamonds, sapphires and pearls.
A smaller, quieter version of their summer Indian Market—an event that has been held for the past 91 years and attracts 150,000 visitors to Santa Fe each August—Winter Market is held during one of the City Different's most attractive seasons as snow begins to fall and the scent of pinon burning in the kiva fireplaces fills the crisp, clear air. Winter Market allows visitors to spend time interacting with their favorite artists and the opportunity to discover new ones.
"Winter Indian Market is a great kickoff to the holiday season in Santa Fe," said Tailinh Agoyo, Director of Public Relations and Marketing for SWAIA. "With our world-class artists and fantastic entertainment, we anticipate this year's show will be the best yet."
This year's show includes:

150 Native artists from the US and Canada
Six open studio artist demonstrations by award-winning artists including painter Ryan Lee Smith (http://www.ryanleesmithart.com), jewelers Vernon Haskie and Allen Aragon (http://www.allenaragongallery.com), weaver Lola Cody and potters Ulysses Reid and Eric Fender
Fashion row featuring the work of Native fashion designers
TCHIN performing the courting flute and a colorful, contemporary take on traditional storytelling (http://www.tchin.net) - Saturday 1p, 4p and Sunday 1p; please see video for a preview of TCHIN
Screening of 2012 Class X film winners (list below) – Saturday and Sunday, 11am & 2pm
Youth artist area
Silent auction including artwork donated by SWAIA artists and fabulous items from local businesses
Raffle - two holiday trees with one-of-a-kind handmade ornaments designed by renowned SWAIA artists
Hours and Admission Information:
Early Bird Shopping for SWAIA Members Only
Saturday, November 24, 9am. Admission is $5 with a SWAIA Membership
For information on becoming a SWAIA Member, call Denise Keron (505) 983-5220
General Winter Indian Market Hours & Admission Fees:
Saturday, November 24, 10am to 6pm and Sunday, November 25, 10am to 4pm
Admission is $5 per day, Children under 12 are free. Performances and film screenings are included with admission. Tickets are available at the door.
All events will take place at the Santa Fe Community Convention Center, 201 W. Marcy St.
Screening Class X Winning Films 2012
Feature: Mesnak (http://mesnaklefilm.com/)- Yves Sioui-Durand
Feature: Shouting Secrets (http://www.shoutingsecretsmovie.com/)- Korinna Sehringer
Narrative Short (Fiction): Hoverboard - Sydney Freeland (Navajo)
Animation: Neil Discovers the Moon - Steven Judd (Kiowa/Choctaw)
Experimental: For Ayaina - Marcella Ernest (Bad River Band of Ojibwe)
Music Video: The Storm - Steven Judd (Kiowa/Choctaw)
Documentary Short: A Return Home - Ramona Emerson (Navajo)
Special Hotel Offer
The Lodge at Santa Fe (http://www.lodgeatsantafe.com/) is offering a Winter Market Getaway Package starting at $139.00 per night. The package includes accommodations and drinks and dinner for two at Los Cuates.
For updates visit: http://www.santafeindianmarket.com
For downloadable high-resolution images: http://tinyurl.com/swaiawintermarket
FOR MEDIA INQUIRIES CONTACT:
Tailinh Agoyo at (505) 983-5220 or tailinh (at) swaia (dot) org
###
ABOUT THE SOUTHWESTERN ASSOCIATION FOR INDIAN ARTS:
For the past ninety years, Santa Fe Indian Market has brought together the most gifted Native American artists from the U.S. with millions of visitors and collectors from around the world; it ranks as the world's largest and most highly acclaimed Native American arts show and as New Mexico's largest attended annual weekend event.
Santa Fe Indian Market is widely known as the place where Native American art and culture meets the world. As a primary vehicle for showcasing Native American arts, Indian Market serves as a principal means for advancing the careers of many of today's noted American Indian artists.
SWAIA's mission of " bringing Native arts to the world by inspiring artistic excellence, fostering education, and creating meaningful partnerships" is evident in its programs which include SWAIA's Lifetime Achievement Awards, Fellowship Awards, Business Training Seminars, Youth Mentorships and committees which establish and uphold the highest known standards for traditional and contemporary Native American art.