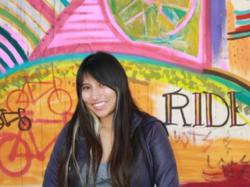 Santa Fe, NM (PRWEB) November 14, 2012
The Eldorado Hotel and Spa, Beals and Abbate Fine Art and artist Vanessa Wilde have joined forces to develop a new graffiti mural on the company's property. More than unique or one-of-a-kind, the mural presents art in its purest form that is truly something to be seen and experienced. To that end, the hotel is hosting an opening reception for the work from 5-8 p.m., Sat. Nov. 17, 2012. The Eldorado Hotel and Spa and Beals and Abbate Fine Art are both featured on SantaFe.com, Santa Fe's premier on-line visitor guide.
Vanessa Wilde is the woman behind DeadDisko. Ms. Wilde is a freelance designer, artist, DJ, former radio producer, computer nerd, cyclist, event planner & tattoo apprentice. Wilde is of Diné (Navajo) heritage, born and raised in New Mexico. Wilde studied English, Art and Graphic Design under influential art professors Chad Colby, Amy Wendland and design professor Paul Booth at Fort Lewis College in Durango, Colorado. Wilde is currently a full-time artist, freelance designer and Project Director based out of Santa Fe, NM.
In Vanessa Wilde's premier mural event at The Eldorado Hotel, Ms. Wilde seeks to incorporate the love the artists feels for Santa Fe. This graffiti fine art experience is like no other and it finds itself in the heart of downtown Santa Fe.
Beals & Abbate Fine Art has done spectacular things with graffiti and mural artistic collaborations several times in the past. With that fact in mind this is a one of a kind experience that should not be missed. Owner, Bobby Beals believes in this unique artist, Vanessa Wilde, and is very happy to share this with the Santa Fe community.
Visitors and locals are invited to join in this celebration and opening with Vanessa Wilde and experience the graffiti mural "Underground" live from 5-8 p.m., Saturday, Nov. 17, 2012 at The Eldorado Hotel and Spa.
About Eldorado Hotel and Spa:
Eldorado Hotel & Spa is the perfect embodiment of the spirit of Santa Fe, where Native American, Hispanic, and Anglo cultures merge in vibrant fashion. Savor the essence of Southwestern luxury in the heart of The City Different. Our AAA Four-Diamond-rated downtown Santa Fe hotel accommodations are only steps from a host of local treasures, including the historic Santa Fe Plaza, the Georgia O'Keeffe Museum, and Canyon Road art galleries.
Contact information:
Eldorado Hotel & Spa
309 W. San Francisco
Santa Fe, NM 87501
(800) 955-4455
(505) 988-4455 Fax
About SantaFe.com:
SantaFe.com provides locals and visitors to Santa Fe alike the most current interactive platform for events, music, arts, business, dining and lifestyle. SantaFe.com is a division of Hutton Broadcasting, located at 2502 C. Camino Entrada, Santa Fe, NM 87507
Contact Information:
Scott Hutton
SantaFe.com / Hutton Broadcasting
http://www.santafe.com
(505) 471-1067 (Media inquiries only, please)
Contact Information:
Beals & Abbate Fine Art
713 Canyon Road
Santa Fe, NM 87501
505.438.8881
Art at bealsandabbate dot com