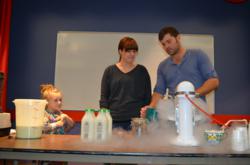 Loma Linda, CA (PRWEB) November 14, 2012
Kids at Loma Linda University Children's Hospital received a lesson about the science involved in making ice cream during a demonstration at the hospital on Tuesday, Nov. 13. Ryan and Cassandra Berk, husband and wife owners of A la Minute Creamery in Redlands, staged the demonstration using liquid nitrogen to accelerate the ice cream making process. The Wells Fargo "Out of the Box" grant, given to the hospital for use in unique educational experiences for children who miss school due to being hospitalized, funded the presentation. The hospital school program is a joint venture between San Bernardino County Superintendent of Schools, Redlands Unified School District, and Loma Linda University Children's Hospital. In the picture, Makenzie O'Neill, 5, of Hemet (left), assists Cassandra and Ryan Berk in preparing ice cream that will soon be served to the kids and guests at the ice cream making demonstration.
# # #
About Loma Linda University Children's Hospital - LLUCH
The Children's Hospital is the only dedicated children's hospital in the vast geographic region of the San Bernardino, Riverside, Inyo and Mono counties. With 277 beds dedicated just for kids, one of the largest Neonatal Intensive Care Units (NICU) in the country, and more than 100,000 children who come each year, LLUCH is a major pediatric teaching facility for Loma Linda University and is part of the Loma Linda University health care system. Known worldwide as the pioneer of neonatal heart transplantation, LLUCH has performed more infant heart transplants than any other center of its kind.